Another kind of Chocolate Cake - what else could you want?
Let's just pretend it's Friday. I'm sorry I'm late, so here's your reward for all your patience.
Chocolate Zucchini Cake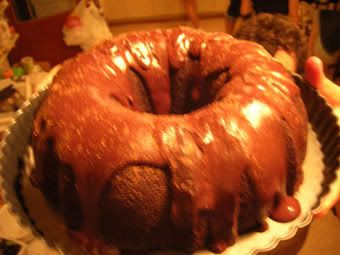 It wasn't till I brought this cake over to Stef's potluck last night that I remembered to take a photo of it. The lighting was less-than-ideal, so Kaveh held the cake above his head near the light while I stood on a chair to shoot the darned thing (I'm anti-flash, but you've already noticed that, I'm sure). I'm really into bundt pans these days, because they have a styled (notice I didn't say stylish) look all their own, and they cook through much easier than regular cake pans. The dessert was a big party hit - the zucchini isn't noticeable (is that a good or bad thing? you decide), but it makes the cake real moist.
3 cups spelt flour
1 3/4 cups Sucanat or organic evaporated cane juice
3/4 cup cocoa powder
1 tbsp. cinnamon
2 tsp. nutmeg
2 tsp. baking soda
1 tsp. sea salt
2 cups grated zucchini
1 1/2 cups filtered water or non-dairy milk
3/4 cup non-hydrogenated coconut oil or high oleic sunflower oil
1 tbsp. pure vanilla extract
3 tbsp. apple cider vinegar
1. Preheat oven to 375oF. In a bowl, whisk together the flour, Sucanat, cocoa powder, spices, baking soda and salt. Stir in the zucchini until well coated with dry ingredients.
2. Pour in the water, oil and vanilla extract. Mix with a silicone spatula just until all the flour has been absorbed. Once smooth, add the vinegar and stir quickly - you'll see pale swirls as it reacts with the baking soda. Stir just until the vinegar is evenly distributed throughout the batter.
3. Pour into a lightly oiled bundt pan or 2 9" can pans and bake for 35-50 minutes. Test with a toothpick for doneness.
4. Remove cake(s) from oven and allow to cool in the pans before removing and icing them.
Bittersweet Chocolate Ganache
2-3 squares semi-sweet chocolate
2 squares unsweetened chocolate
two pinches nutmeg (or so)
filtered water or coconut milk for thinning (at least 1/4 cup), at room temperature
Finely chop the chocolate. Fill the bottom pot of a double-boiler with hot water and place it on the stove over medium heat. Put the chopped chocolate and a generous pinch of nutmeg in the top pot of the boiler, and keep a good eye on it while it melts, stirring as needed. This is a tricky proceedure, because chocolate can seize up - take care! Once there are no lumps, add water (or non-dairy milk) to reach desired drizzling consistancy. If you use cold liquid, you'll be messing with the tempermental chocolate temperature. Turn off the heat and immediately drizzle the ganache somewhat evenly over the cake. Sprinkle another generous pinch of nutmeg over top. Allow to set before slicing and serving.
Labels: cake, chocolate, cocoa, recipes - desserts, spelt flour, spices, zucchini