Roasted fennel puts ringing in my ears.
I live in apartment with a
very
sensitive smoke detector. Everytime I turn on my oven for anything other than cookie-baking, it goes off. And geez, is that thing loud. I calmly reach for my step ladder and bring it into the hallway where the damned thing is going full blazes - but when I try to open it up, I can't think for the life of me how to do it because the bleeping is just so loud - I fumble around, unable to focus. Finally, out pops the battery. Silence - only the smell of fennel is in the air.
So here's a simple recipe I hope you enjoy. Camera's still on the fritz, so I have to admit, I pulled this pic off of Google.
Simple Roasted Fennel Bulbs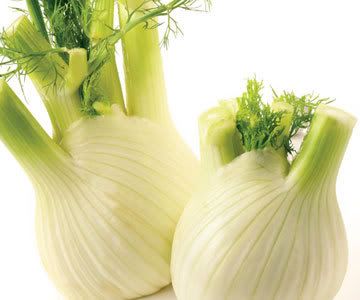 Fennel is a warming herb, and is in peak season from now until spring time (... or so I've read - are any of you finding locally grown fennel right now?). I love the flavour of this vegetable that I only discovered a short time ago. I made this to accompany Sweet Potato Soup when I had Richard to dinner the other week. There was white wine leftover from my birthday party the night before, so I sloshed some on - it had a delicious effect.
Also try fennel raw - grated into salad or sliced in wedges and dipped in hummus - it's good for digestion.
sweet fennel bulb (how ever many you want, just as long as you have enough pans and oven space)
olive oil
white wine (optional, but highly recommended)
sea salt
freshly ground pepper
Preheat oven to 400oF. Rinse bulb well and trim off the thread-like leaves and any dried stalk-ends. Also slice of the dry (and possibly brownish) root end, but just to expose the white again - we need most of the root intact to complete the next step with ease.
Using a large chef's knife (no paring knives here!), slice the bulb from stalk to root, length-wise (meaning you'll have fewer but wider slices than if you cut down width-wise). Lay slices on an oiled or parchment-lined cookie sheet, in one layer. Shake on some sea salt, grind on some fresh pepper, drizzle on some olive oil and slosh on a bit of white wine (this is a great way to use up leftover wine - does anyone else ever have that problem?). Slide in the oven and roast for 30-40 minutes, until fennel is soft, with roasted-looking edges. Serve warm as an attractive side dish.
Okay folks, so this is the week we turn to all those of you DA readers who've never piped up. Just say hi, so I know you're there. I feel out of touch with no website counter - and it'd be nice to know there's more that the six or so regular readers I hear from. Thanks!