Apologies
Another week without a food post for you. I'm sorry.
The only recipes I'm figuring out these days are baked goods - I've just started working a few days a week at a super vegan restaurant here in Montreal called
Aux Vivres
(hence the reason for writing this post at 5:30 am - I have to be at work in half an hour!). I'm figuring out how to bake 75 large cookies at a go, or two dozen jumbo muffins, and I'm sure that's not of much use to you.
For those of you who're yarn-inclined though, I have a question.
Remember this pile of Rowan I picked up in Edinburgh?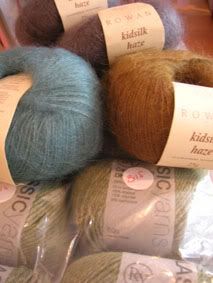 What do I do with this ball of brown "Elegance" Kid Silk Haze pictured there on the right?
I want to make a scarf for fall. Any pattern ideas?
Something attractive, but everyday-wearable. And simple enough to knit - lace is fine, but I don't want to have to be checking the pattern at every row.
Thanks for your suggestions!
There'll be food next week. I promise!