Cheendana's cookies
It's been a while since we had a sweet recipe, so let's have one today.
Tahini Thumbprint Cookies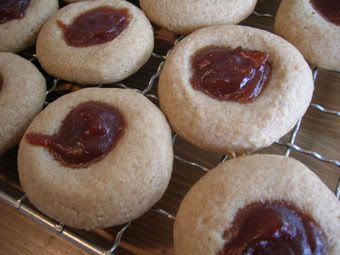 It's a bit of a funny theme to observe, I know, but I have been blessed with the healing presence of a number of beautiful, serene, tall, blond women in my life: Andrea, with the strong, gorgeous voice; my naturopathic doctor Masina; writing and yoga-teaching Daphne (who's currently at an ashram in BC until April - lucky her!) - but Cheendana was one of the first. I lived in her rural Nova Scotia garden six falls/winters ago - it was she who introduced me to whole foods (my dairy-lovin' self turned vegan by the time I was on a plane back to Toronto). I haven't seen her in years, but we keep in touch, and I'm grateful for the recipes she gave me that started me on this path.
These cookies are as simple to make as the ever-popular Flax Maple Cookies (and kinda similar, I might add). Forget about the thumbprint part and you've got yourself a nice shortbread-like replacement for someone who doesn't eat peanut butter cookies.
2 cups spelt flour (other flours make cookies that are too crumbly - trust me, I've tried)
1 cup tahini/sesame butter (or other seed or nut butter)
1/2 cup maple syrup
1/4 cup sunflower oil
1/4 tsp. sea salt
filling: 1 cup chopped pitted dates + 2/3 cup water
(Filling can be substituted with apple butter [seen here] or jam if you are in a rush, or if you're opposed to dates)
1. Preheat oven to 350oF.
2. Allow dates to simmer with water in a small pan/pot until they're softened and can be mashed with a fork into a paste.
3. In a medium/large bowl, mix up all other ingredients, roll into walnut-sized balls and place on an ungreased cookie sheet.
4. Make a dent in each ball with your thumb and fill that space with date mush.
5. Bake for 10-12 minutes, until lightly brown on the bottom. Makes about 30 cookies.
Labels: cookies, dates, maple syrup, recipes - desserts, spelt flour, tahini