A decent dinner for Scots
Before we get to food, I wanted to call to attention the fact that I forgot my own two year blogiversary. It was last week on Thursday (the 4th). Can you believe Domestic Affair is a toddler now? So much has happened since the start of 2005...

I also want to give a shout out to my brother James...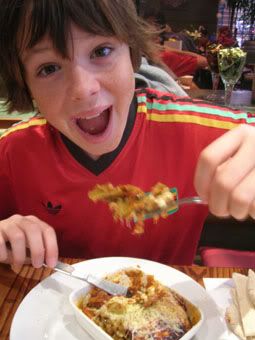 ... who turns 16 today (and is pictured here in Edinburgh on our trip last summer). I miss you, kid. Call me when you're about to open my present.
Andrew and I made this recipe over the holiday. My mum says it's amongst the best recipes I make... but don't take her word for it - try it yourself!
Please forgive the photo - I think it's misrepresenting the lentil-veg to potato ratio in a potato-heavy way.
Shepherd's Pie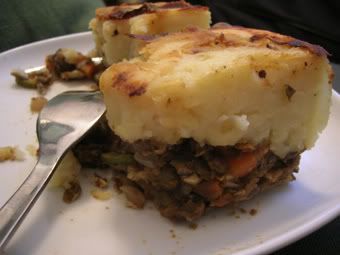 I'll let you in on a little secret - Shepherd's Pie was traditionally made with leftover lamb. Gasp! I know what you're thinking - sheep for yarn is one thing, but pie? It's not my cup of tea, that's fer sure. I think it's a Scottish dish, but you can feel free to correct me on that one.
I used to make a Shepherd's Pie with a base of grated tofu. In the interest of keeping my soy intake to a minimum (it appears enough in my weekly food intake without me seeking it out), and getting more high-fibre, blood-sugar-balancing lentils in my diet, I came up with this version instead.
4 fist-sized organic/non-GM potatoes* (yukon gold pref), peeled and chopped
1/2 cup non-dairy milk (I like
Eden Rice & Soy Blend
)
3 tbsp. olive oil
3/4 tsp. sea salt
1 1/4 cup green/brown lentils
2 1/2 cups filtered water
1-2 tbsp. olive oil
2 medium onions, diced
3 medium carrots, (peeled if not organic and) diced
5 organic cremini mushrooms, sliced
1 6" zucchini, or 2 ribs celery, diced
3 medium-large cloves garlic, minced
3 tbsp. tomato paste (I like
Thomas' Utopia
because it's organic and Canadian)
1 1/2 tsp. thyme
1 tsp. ground coriander seeds
1 tsp. sea salt
To start, put on a large pot of cold, lightly-salted water to boil with the potatoes. Once it comes to a boil, reduce heat to simmer and cook until potatoes are soft, but not falling apart (maybe 10-15 minutes). Drain, and mash potatoes with milk, oil and salt. Set aside.
While the potato water's heating up, put on the lentils to cook with 2 1/2 cups water in a small saucepan. Just like the potatoes, bring water to a boil and then reduce to a simmer, until lentils are soft but not falling apart.
Preheat oven to 350oF. In a large fry pan or medium saucepan over medium heat, saute the onions in the oil for about 8 minutes, stirring as needed. Add the carrots and cook for 5 minutes longer. Then add the zucchini/celery, mushrooms, garlic, herbs and salt. Once everything is soft, stir in the tomato paste (with a splash of water if needed) and cooked lentils.
Put the lentil-veg mixture into a 2.8 litre lightly-oiled casserole dish (or 2 1.5 litre oven-proof dishes), and smooth on the mashed potatoes in an even layer. Drizzle a bit more olive oil on top. Bake in the oven for 20-25 minutes, until heated through - you may want to turn on the broiler for the last 5 minutes to crisp up the top, but watch that it doesn't burn! Allow to stand for 5 minutes or so before serving with steamed greens and maybe some baked squash (Ooh, and mushroom, miso or cashew gravy - that could be good! You have those recipes in
Ripe #4
). Serves about 8.
* An adaptation I just thought of would be to substitute some of the potatoes for and equal amount of parsnip - I wouldn't do it for more than 2 potatoes worth. Parsnips certainly are nice and warming this time of year. Try it and lemme know how it turns out.
PS. My last comment on Shepherd's Pie is this: I just found out that this dish in French is
Pate Chinoise
- Chinese Pate? How strange is that?!