Realistic Resolutions: Developing a New Year's Wellness Plan You Can Actually Stick To
Here's an article that I wrote for The Link this week, and the Coles Notes of the talk I did here in Montreal in Monday. Hope it's of some use to you....
The most significant thing I do as a holistic nutritionist is to help make principles of good health applicable and do-able for people. We all know that we should drink more water and less alcohol, eat more vegetables and less sugar, exercise more and sit in front of the computer less... but what keeps us from integrating these things into our lives and forming better habits? It's a tough question to answer.
It seems that different approaches work for different people, but there are some key approaches worth trying out. I'm willing to admit that a discussion about manifesting positive change can sound pretty self-helpy or motivational speaker-y, but humour me for a minute, and see if any of it actually resonates with you.
First,
decide you actually want an improved state of health
. Don't change because you feel you
ought
to, or because your mom or the Surgeon General says you should. Do it for you, and approach it with optimism. And if you actually do want to make change, then consider my affirmation for this: "
The point of power exists in the present moment
." Forget waiting for New Year's or your birthday or the first day of the week or the end of your pack of smokes. You can start making good choices in this moment.
Toss out the idea of "Good" and "Bad"
. Steer away from manifesting feelings of guilt, look at things more from the standpoint of beneficial and not-so-beneficial choices. Avoid making these habits you're trying to develop into a chore - enjoy the challenge.
Start slow
. Going full blazes right away is a lot to contend with - and once you get overwhelmed you're likely to drop everything and go back to what feels comfortable and easy - your old habits. Instead, prioritize your changes in micro-steps. Focus on one new thing each week, and build up. If you want to, say, quit eating refined sugar, in week 1 make sure your kitchen's stocked with lots of fresh fruit. In week 2, look into blood-sugar balancing foods (like legumes and cinnamon) that'll help with cravings. In week 3, get rid of all the sugar in your house (so it's not around to tempt you).
Do it with others
. When I want to get a project done, I like to plan homework dates with others. We meet somewhere - I do my thing and they do theirs, but there's something encouraging about the presence of someone else that keeps me motivated and focused. The same goes for health-related goals - cook delicious whole-foods meals with friends, get a walking pal, join a yoga class. You may also want to get support from a holistic health practitioner.
Believe in the change
. Scientific studies (for what they're worth) have proved that the power of visualization is very strong. Refuse to resign yourself to the idea that "Oh, I'll always be depressed." People report that they have cured themselves of cancer or HIV through, in large part, the belief that they are in perfect health.
Affirm the changes in a positive way
. Reward yourself for the changes you've made with non-food treats like a new book or zine, a cozy pair of mitts, a massage, a good movie - whatever feels good for you.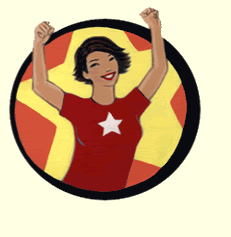 Further reading and watching:
You Can Heal Your Life
by
Louise Hay
You Can Do It!: The Merit Badge Handbook for Grown-Up Girls
by Lauren Catuzzi Grandcolas
The Secret
- a movie about the laws of attraction and the power of positive thinking (Accept the high cheesiness factor with this one, and just get into what they're saying.)