Something good
It's tough thing coming up with recipe posts these days - I have photos and I have recipes, but they don't match up. I came up with recipes this holiday for Fig and Anise Biscotti (Ryan's flavour combo idea), Coconut Milk Truffles, vegan millet-based Tourtiere (a traditional Quebecois dish served on Christmas or New Year's) and lentil-based Shepherd's Pie... you'd think I'd've remembered to take photographs, but no. Daniel and I have a cook date this weekend, and I have a Dinner Club next weekend maybe, so there'll be a bounty of Foodie Friday content after that.
(Oh, and my camera is thankfully not on the fritz anymore, for the first time in a few months. Of course it only took the guy at the camera store in Toronto two seconds to fix. Coulda figured it out if I believed in operation manuals, but who reads those things, really?)
Enough stalling. Here we go:
Background on Jerusalem Artichokes
Jerusalem artichokes have nothing to do with regular artichokes, as far as I know. They look like a cross between a small potato and ginger root.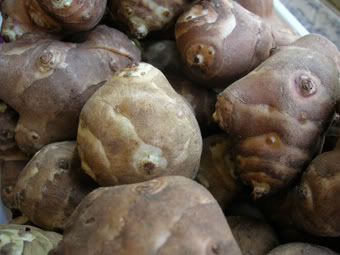 They have a sweet flavour. But here's why you're gonna love 'em: they're said to be good for diabetics (as they're an amazing source of inulin, a natural fructose that's medicinal for those with diabetes), lung conditions (like asthma) and contain vitamins A, B-complex, potassium, iron, calcium and magnesium, and unlike other root vegetables, contains no starch! You can put them raw in salads, but here's what I like best:
Potato-less Oven Fries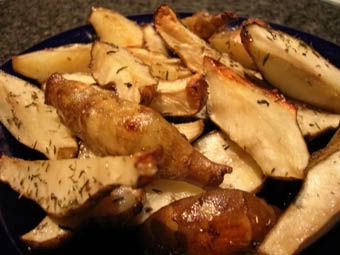 What a treat. Fits nicely into the good-tasting and good for you category.
4 cups jerusalem artichokes, scrubed (not peeled)
2 tbsp. olive oil
1/2 tsp. sea salt
1/2 tsp. thyme
Preheat oven to 375oF. Cut jerusalem artichokes into wedges (as best you can as they're usually pretty irregularly shaped). In a large bowl, toss with olive oil, sea salt and thyme. You could add a clove of minced garlic, or a pinch of chipotle powder if you like. Spread out evenly on a baking sheet and bake for about 30 minutes (turning once at 15 minutes), until crisp on the edges and soft inside. Enjoy on their own, or serve with ketchup. Serves 2 or so. You may want to roast some squash at the same time and serve them together, alongside some steamed greens or a salad to make a nice meal.
Enjoy!
Two more things:
If you're in Montreal, I'd love to see you next Monday evening at my talk - newly relocated (and hopefully for this month only) to BioTerre on Esplanade and St-Viateur. See the sidebar for details.
Also, if you're a vegan/veg whole-foods cook yourself, I'm opening up Foodie Fridays for other featured chefs. Be a rock star for a week! Enquire within.
Labels: jerusalem artichokes, recipes