Memories of diner food
Grilled "Cheese"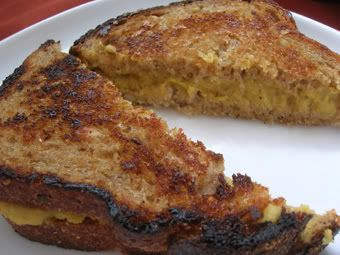 I was pretty skeptical about the idea of a dairy-free version of this childhood favourite, but at first taste it became a staple in the first couple years I was vegan. Having not had it in a good long while, and it being a rare occassion that I had some fresh wheat-free bread in the house yesterday, I whipped up a batch. Not only is it delicious, but if you're using Red Star yeast flakes, it's a great way to get some vitamin B12 in yer bod.
1/3 cup nutritional yeast
1/4 cup flour
1/2 tsp. salt
1 clove garlic, crushed or grated
1/4 tsp. mustard powder
a few twists of ground pepper
1/2 cup filtered water
1 tbsp. olive oil
non-dairy, non-GMO margarine, for spreading
8 slices whole grain bread
1. In a bowl, combine nutritional yeast, flour, salt, pepper, garlic and water. Stir mixture constantly in a skillet over low heat (like making gravy). Once it gets pasty, add the oil (and a touch more water if necessary). Once the oil is incorporated, turn off the heat.
2. Margarine one side of each slice of bread. Take four of the slices and slather the other half with the "cheese". Slap the other four pieces of bread on top of the "cheesy" ones, marg side out.
3. Fry up the sandwiches until golden brown on each side. Slice sandwiches in half and serve with ketchup and pickles. Mmmmmm! (Makes 4 sandwiches.)
Labels: nutritional yeast, recipes - entrees, sandwiches