The Chocolate Celebration
My mum and I were chatting on the phone the other day and she commented on how exciting it must be for me to have a 'valentine' this year, and how lucky it was that he was coming to visit me here in Montreal just before the 14th. (While we actually organized his trip around the
Arcade Fire
show we're going to see tonight, I held off on reminding her of that because I wanted to see where she was going with this line of conversation.) "What's so exciting," she said "is that you can finally put all that Valentine kitchenware you have to use!"
This, of course, requires an explanation. When I lived in Toronto I was in the habit of visiting
Williams Sonoma
on the day
after
a major holiday to see if there was anything exciting on sale (who can afford to shop there at full price?). Two years ago, on February 15th, I picked up a gorgeous Le Creuset
"hot chocolate pot"
(translation: red cast-iron saucepan with a spout) at half price (which was still $75!), and I also got some pancake moulds and some brightly coloured heart-shaped dessert plates and ramekins. (Each came in a set of four, in a box with a fancy ribbon. When I thought I'd ever use them, I don't know - when I turn into Martha Stewart, or when I have kids who would likely get a kick out of them?)
Anyhow, I mentioned all this to Ryan over the phone the next day and he listened quietly. "What?!" I asked when the silence on the other end of the line made my last sentence sound like it was still dangling in mid-air. "I'm having a whole-body-clench reaction," he said in a kind of monotonous, kind of nervous tone. "Don't worry," I assured him, laughing and a little embarrassed that I'd even brought it up. "I'll keep the cupid pancake mould in its box."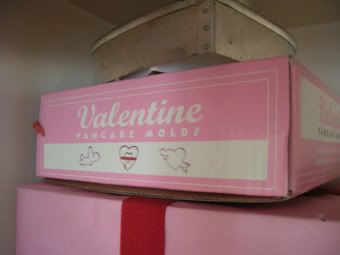 Safely stored in the top corner cupboard.
So, with all that being said - Valentine's Day romance? Whatever.
I'll take next Wednesday (oh heck, and everyday leading up to it) to celebrate chocolate.
Dark Chocolate Pudding
with Coconut Milk and Chipotle Pepper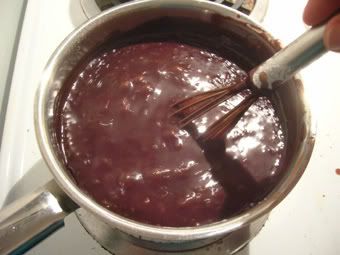 I made this last weekend to bring to a dinner party at Stef's. It was great - the smokiness of the chipotle works beautifully with chocolate. Anytime I make pudding, I always wish for a double batch though - it's such a comfort food.
2 1/2 cups non-dairy milk (soy or rice)
1 1/2 cups coconut milk (should be the amount from 1 can)
1/2-2/3 cup Sucanat or organic sugar
1/4 tsp. sea salt
2/3 cup Dutch-processed cocoa powder (this is the rich dark stuff - I get it from my local bulk foods store)
4 tbsp. (which is 1/4 cup) non-GMO cornstarch (I use
this one
)
1/4 - 1/2 tsp. chipotle pepper powder (depending on your heat tolerance and the strength of the powder)
In a 2 quart sauce pan over medium heat(or even medium-high, depending on your stove), warm 1 1/2 cups of milk along with the coconut milk, sugar and salt.
Pour the remaining 1 cup of milk into a bowl (or I used my Pyrex 2-cup measure), and sift in the cocoa powder and cornstarch. Whisk together until a pretty uniform mixture is achieved. Pour this mixture into the saucepan in a slow, steady stream, whisking all the while (the whisking doesn't need to be vigorous). Now stir in the chipotle (you can add the smaller amount and then try it after 10 minutes to see if you want more heat - try not to be a wuss though).
Now here's the part where pudding becomes labour-intensive. Pudding is simple, yes, but if you abandon it, it could ruin everything. You'll want to be whisking pretty constantly for the next 15-20 minutes (or more - I'm sorry, I didn't time it) to avoid clumping and to keep the bottom from burning. If there's no one around to make conversation with (your valentine, perhaps?!), maybe you'll want to get something to read - you can hold the book in one hand and still stir with the other.
Once a noticeable thickening has occurred (don't worry it'll still thicken up more in the fridge), transfer to custard cups, heart-shaped ramekins, or simply a glass or ceramic bowl (not plastic please - never mix heat with plastic), cover, and put in the fridge to cool for at least 2 hours. Alternately though, you could just allow it to cool at room temperature if you're a warm pudding kind of person.
Serves 4-6... it depends on what you consider a serving.
Decadent Truffles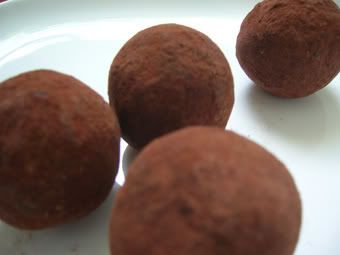 These treats are killer! Ryan and I made them as gifts at Christmas. They were a big hit. (Try not to get addicted and really just savour each one.)
I'm inclined to take this recipe and double, if not triple or quadruple it - this is just the basic formula/ratio.
6 oz.
Callebaut
(or other high quality) dark chocolate
1/3 cup good quality coconut milk
a pinch of sea salt (optional)
Dutch-processed cocoa powder (maybe 1/2 to 1 cup)
Chop up the chocolate into small, and hopefully somewhat uniform, pieces.
Fill the bottom of a double-boiler with an inch or two of hot tap water, place second pot on top, making sure that the water in the bottom pot isn't touching the bottom of the top pot. Scrape all the chocolate into the top pot and turn the heat to medium (or even medium-high, depending on your stove). Stir with a heat-proof spatula regularly to prevent burning or seizing. Once all the chocolate chunks have melted away into a dreamy liquid, stir in the coconut milk and salt. Make sure you get a uniform mixture.
Scrape into a bowl, cover and refrigerate until mixture is firm but not hard (about an hour maybe?). Now, in an idea world you'd have a little purple-handled scoop, but a nice round tablespoon will do. Scoop out the mixture, roll into balls (try to do it quick 'cause the chocolate gets melty fast), drop into a bowl of cocoa powder to get a nice even coat, and then place on a parchment-lined plate or container. Repeat until you've run out of chocolate.
Cover and refrigerate to set, but serve at room temperature (very important). They'll keep in the fridge for about two weeks.
Labels: chipotle pepper, chocolate, cocoa, coconut milk, puddings and mousses, recipes - desserts, truffles