Rooted, revisited
Ages and ages ago
I posted a recipe for Maple Roasted Roots, but the instructions were rather vague, and vague doesn't always work for everyone in the kitchen.
So here we go again:
Maple Roasted Roots
The wonderful thing about roots is that they grow in this climate and tend to store quite well, so the likelihood of getting local produce should be pretty good. Energetically, root vegetables are grounding, which is helpful at this more hibernatey time of the year. They'll also be more warming if they're organic and have avoided any chemical fertilizers (the slower a food takes to grow, the more warming it is - you can read about this in Paul Pitchford's amazing resource
Healing with Whole Foods
).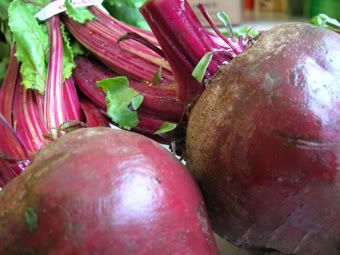 16 cups chopped/cubed vegetables* (squash, onions, garlic, beets [adds great colour!], parsnips, carrots, potato, sweet potato, jerusalem artichoke, turnip, celery root... best of all, all of them!)
1/2 cup pure maple syrup
1/3 cup olive oil
2 tbsp. balsamic vinegar (optional)
1 tsp. thyme
1 tsp. sea salt (or more to taste)
freshly-ground pepper
*
For goodness sakes, go ahead and use organic produce so you don't have to fret about pesticides and you can just scrub and rinse the veggies real thorough-like instead of having to peel 'em. Okay, I'd peel the squash anyway, and for the garlic, use a good head or two - peel the cloves and leave 'em whole.
Preheat the oven to 400oF. In a large bowl, toss the vegetables with the syrup, oil, vinegar and thyme, so that seasonings are dispersed evenly.
Spread out onto two large, lightly-oiled baking pans, making sure that everything can rest in one layer in the pan. Slide the trays in the oven to bake. Pull them out every 12 minutes or so to stir.
After about half and hour, evenly sprinkle on the salt and pepper, toss again, and return to the oven. The vegetables will likely take the better part of an hour to be done (they should be nice and soft, but not falling apart or burning).
Serve hot, alongside some cooked grains, salad or steamed greens, and a protein of your liking.
If you have lots left over, puree it and you've got a roasted veg pasta sauce. Yum!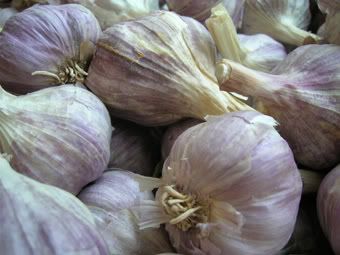 Labels: beets, maple syrup, recipes - entrees, root vegetables