Secret Knitting
So I've been knitting pretty regularly for the past two months or so now. I just didn't mention it because I figure all the knitsters that used to come here for some fibre-based content have given up on me long ago. But now that I've racked up a good few FOs, I wanna show off.
It all started when I was avoiding studying for my Anatomy Final in mid-December. All of a sudden the herringbone stitch scarf I'd
started last Boxing Day
became very interesting. And before I'd memorized which facial muscles help you to smile, and which ones are used for puckering up, I'd finished it.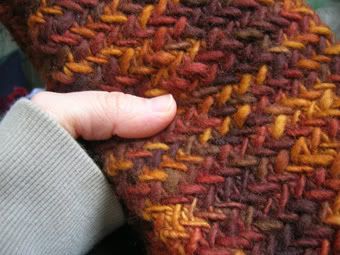 But I wasn't into the colours anymore. Beautiful, yes, but too autumnal. So I promtptly started another, my third scarf in
this pattern
with
this yarn
(and I
know
Manos doesn't wear so well, but I love the colours so - this one's colourway 109), and while it had to be put on hold for a few days to knit a Christmas present (knitting for others? something that certainly doesn't happen as often as I'd like), I finished it pre-New Year's while Ryan and I were on a
Entourage
-watching marathon.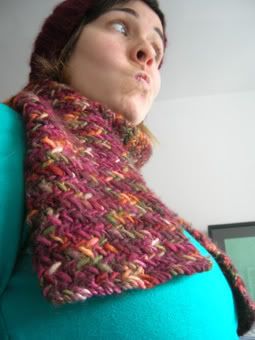 (we're NOT going to mention how huge my right tit looks from this angle, nor that you can see right up my nose - it's about showing off the scarf, that's what's important)
A matching simple ribbed toque in
Nashua
chunky (It's something I've never knit with before, but I really like it with its 25% alpaca - it took exactly one ball, down to the last inch of yarn.) followed: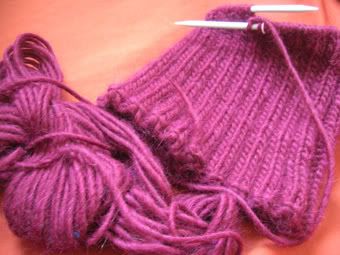 and is now finished and pictured above, even if you can't see it.
And the aforementioned Christmas present? It went to my mum's partner, David, and was actually a birthday/Christmas combo present as I'd let his 53rd slip by last August. It was one of those gifts that you hand to someone on Christmas morn still on the needles, and then take right back to finish it off. Like
Stephanie
and
Sandy
's
Irish Hiking Scarves
, I'd liked it to have been longer, but I'd only brought a skein and a half of Lamb's Pride with me to Toronto.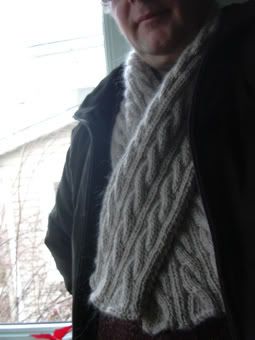 Then, stuck in Toronto with a limited number of needle options (two, actually) and just a modest amount of Boxing Day Sale yarn purchased from
my beloved old stomping grounds
, I started a second Irish Scarf: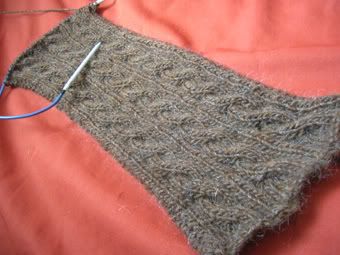 I have a pretty good idea who it's for, but I'm not saying, and it may not get finished till next Christmas anyway, knowing me... as you all do.
Labels: knitting