Granola bars updated
I don't know what happened last week - Friday just slipped out from under me.
If you're in Montreal, I'd love it if you'd come see me next Monday evening (March 5, at 7:30pm) at Le Depanneur Cafe in Mile End (on Bernard). I'll be talking about Food as Medicine to anyone who'll listen.
Granola Bars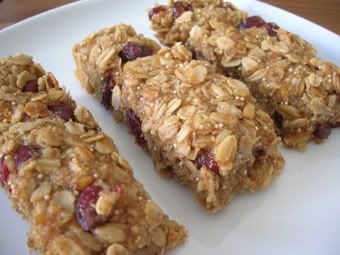 So I made these granola bars over a year ago for Andrew, and I was never quite satisfied with them. And, they weren't vegan, which was less than ideal. Now I've come up with this version, using a gloppy yet high-fibre flax and amaranth mixture, to bind them together. I like the look of the cute little amaranth in there (it's a grain I don't use too often), and the flavour's pretty lovely. I'll be taking some when I travel north this afternoon to meet a snowboarding-Ryan in Piedmont.
3 cups rolled oats (
not
quick oats - you could substitute with kamut or rye flakes, but oats nourish your nervous system)
1 cup filtered water
1/4 cup flaxseeds, partially ground (1-2 pulses in the coffee grinder)
2 tbsp. amaranth
1/2 cup oat bran (or wheat bran if tolerated)
1/2 cup whole grain flour (your choice)
1/2 cup shredded coconut*
1/2 cup dried cranberries*
1 tsp. cinnamon
1/4 tsp. sea salt
1/2 - 2/3 cup maple syrup
1/2 cup olive oil
zest of a organic orange
Preheat oven to 350oF. Spread oats on a baking sheet and toast them for 20 minutes, turning once half way through to prevent browning. While oats are toasting, put water, flaxseed and amaranth in a small pot on the stove over high heat. Bring to a boil and then reduce heat to a simmer and cook for 8 minutes longer. Remove from heat.
In a large bowl, whisk together the bran, flour, coconut, berries, cinnamon and salt.
Once oats have toasted (and have been removed from the oven), add them to the large bowl. Reduce oven temperature to 325oF. Scrape the flax goop into the bowl and combine to make a uniform mixture. Press mixture into a lightly oiled 28x18x4 cm baking pan and score into 16 bars (one long length-wise cut, 7 cuts width-wise). Bake for 30 minutes. Allow to cool before cutting.
They should keep in a sealed container on your countertop for 4 or more days, or in the fridge for a week or more (though they might get soggy in there).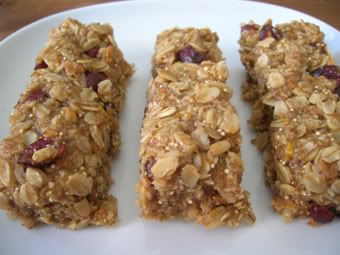 *I did the cran/(orange)/coconut flavouring, but you could also try similar amounts of date/(lemon)/coconut, raisin/walnut, or play around with ginger/cashew (oooh, what about candied ginger?!).
Labels: coconut, cranberries, maple syrup, oats, recipes - breakfast, snacks