Bagged lunch gets fresh
But first - big news! Have you seen my new banner? Pretty nice, eh?
That's the skilled design work of
Mary Jackson
, folks. Another Montreal knitter - I found her through her online knitting store,
Ariadne
. I am so pleased. Get ready for further improvements to Domestic Affair this year - it's gonna be great.
Pesto White Bean Bowl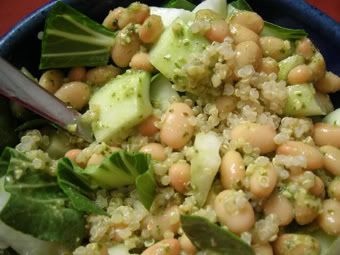 This meal-in-a-bowl is quick to put together and tastes great at room temperature for lunch or dinner out of the house. Both white beans and quinoa are great sources of protein, calcium (and magnesium) and fibre. The bok choy and the pesto add and nice freshness to the meal. Feel free to grate in a clove of garlic if that's your kind of thing, or add any other vegetables on hand as well (sometimes I grate in carrots).
1 1/2 cups cooked white beans (cannellini or navy) - if I'm in a rush I use a can of Eden Foods Cannellini or Navy Beans
1/4 cup basil pesto (homemade or store bought)
1/4 tsp. sea salt
a good couple grinds of the pepper mill
2-4 small bunches of baby bok choy (or organic baby spinach)
2 cups cooked quinoa
flaxseed oil or olive oil, to taste
If you don't already have quinoa or some other grain cooked (yay leftovers!), you'll want to put that on first thing.
Take the white beans and gently mix them in a bowl with the pesto (if you need a good recipe, I'll be putting one up in basil-harvesting season), salt and pepper. Rinse and chop the bok choy.
Grab two portable containers and portion the quinoa into each one, then the chopped bok choy, then the pestoed beans. Drizzle with oil and season with additional salt and pepper if you think it's needed.
Serves two. Enjoy.
Labels: bok choy, pesto, quinoa, recipes - entrees, white beans