Cheaper than basil
Nice and fresh for this heat wave we seem to be having here...
Cilantro Pesto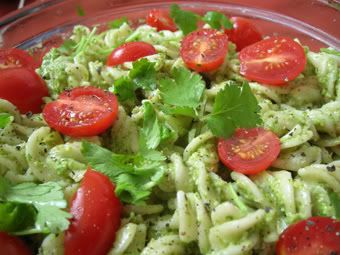 Not only is cilantro (also sometimes known as fresh coriander) cheaper than than the ever-popular pesto-making herb basil, but it has the ability to pull heavy metals out of your body. Let's hear it for detoxifying foods!
1 1/2 cups chopped fresh cilantro (about 1 bunch, packed)
1/2 cup olive oil and/or flaxseed oil
3 medium cloves garlic, minced
3 tbsp. fresh lemon juice
1/3 cup sunflower seeds
1/3 cup pumpkin seeds
1/2 tsp. dulse powder
1/2 tsp. sea salt
ground pepper to taste
Give all ingredients a good whirl in the blender.
Serve over pasta (pictured here on brown rice noodles, with grape tomatoes and an extra bit of olive oil, salt and pepper), on pizza or in a salad dressing.
Labels: cilantro, garlic, nuts and seeds, recipes, sea veggies