Favourite muffins
So what gives? No one had anything to say about the Chai Cake?
Boo, I'm disappointed. What would happen if I layed on the guilt - explaining that all these recipes are here for free because I want to exchange them for your feedback - ? I want to hear what you have to say!
Anyhow, let's move right along with some more baked goods. A shout out goes to
Sasha
, who's been wanting this recipe forever.
Banana Chocolate Chip Muffins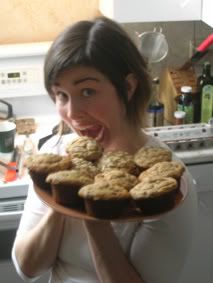 The only muffins I ever remember my mother making when I was little were Banana Chocolate Chip. Last weekend she came to Montreal for a visit and I baked these up for her. Needless to say, they were thoroughly enjoyed. (These photos were taken by Michelle a few months ago at a brunch at Ryan's house.)
1 ½ cups mashed ripe bananas (about 4 bananas)
1/3 cup olive or sunflower oil (or melted non-hydrogenated coconut oil)
2/3 cup maple syrup
1 2/3 cups spelt flour
1 ½ tsp. baking powder
½ tsp. baking soda
½ tsp. cinnamon
½ tsp. sea salt
½ cup chocolate chips
½ cup nuts, chopped (optional)
1. Preheat oven to 375oF. Prepare a 12-cup muffin tray with paper liners or with a light coating of oil.
2. In a large bowl, whisk together flour and all dry ingredients.
3. Add wet ingredients to dry and mix just until all of the flour is absorbed. Toss in chocolate chips, and nuts if desired.
4. Portion batter evenly into muffin cups and bake for about 25 minutes. Test with a skewer for doneness.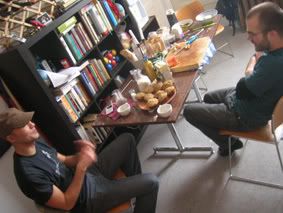 John and Tyler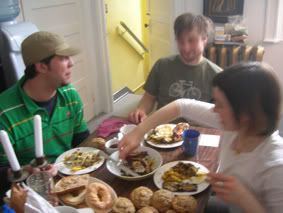 Damien, Ryan and me
NEXT WEEK: salad dressings!
Labels: banana, chocolate, maple syrup, nuts and seeds, recipes - breakfast, spelt flour