Long time cake love
It's been a while since we had a dessert. Fire up the oven!
The New Carob Chai Cake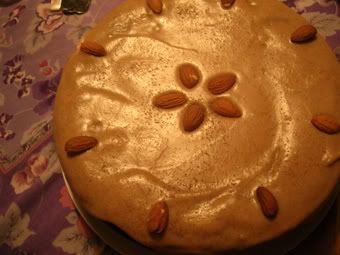 When I fist made this cake, back on Salt Spring Island over five years ago, I just used a very strongly steeped chai in lieu of milk. Now with the addition of ground spices, there's no need to brew any tea. In addition, this cake recipe used to have sugar in it - now, maple syrup takes its place.
1 1/2 cups light spelt flour
1/3 cup carob powder
2 tsp. cinnamon
1 tsp. nutmeg
1/2 tsp. ground cardamom* (or ground cloves)
1 tsp. baking soda
1/2 tsp. sea salt
1 cup maple syrup
3/4 cup organic (non-dairy) milk or filtered water
1/2 cup sunflower oil
2 tsp. pure vanilla extract
2 tbsp. cider vinegar
1. Preheat oven to 375oF. In a bowl, stir together flour, carob powder, spices, baking soda, and salt.
2. Pour in the syrup, milk, oil and vanilla extract. Mix with a silicone spatula just until all the flour has been absorbed. Once smooth, add the vinegar and stir quickly - you'll see pale swirls as it reacts with the baking soda. Stir just until the vinegar is evenly distributed throughout the batter.
3. Pour into a lightly oiled and carobed (yes, dusting with carob powder in lieu of flour spares you the crusty whte bits on the bottom of the cake when it's done) 9-inch cake pan and bake for about 30 minutes. Test with a skewer to see if done. Serve warm, or let it cool and then ice or glaze it, or simply dust with confectioners sugar.
Chai Icing
2 cups powdered sugar* (often you can find organic powdered sugar in health food stores, or try making your own running organic sugar through a powerful blender)
2 tbsp. non-GMO cornstarch
1/4 cup non-hydrogenated coconut oil or margarine (or organic butter)
2 tbsp. organic (non-dairy) milk (coconut milk would be nice!)
1 tsp. ground cardamom**
1/2 tsp. anise or fennel seeds, ground
1/4 tsp. cinnamon
1/8 tsp. sea salt if using coconut oil, or unsalted marg/butter
* Now I found this icing to be a little sweet - you may want to try decreasing the amount of sugar to 1 3/4 cups and adding another tbsp. or two of cornstarch - and let me know how it goes!
In a medium bowl or food processor, combine the sugar, cornstarch, oil and milk. Mix until smooth, then add in the spices (and salt if needed) to taste. Adjust measurements slightly if needed for a smooth, spreadable texture.
Spread a very thin layer of icing over the cake, and then refrigerate for 10 minutes (this is called a crumb coat). Pull the cake out and coat with rest of icing, starting from the centre and working you way out to the sides. Garnish with a combination of chopped and whole raw almonds if desired.
** If you only have cardamom pods, de-husk 'em and toss 'em in the coffee grinder and whirl 'em around for a while.
***
In other news, I added some new links down below... thought I'd mention them now, so they don't just get lost in the crowd:
*
Co-op La Maison Verte
(Montreal)
*
David Wolfe
(raw foods)
*
Real (Raw) Milk
- if you eat dairy you've got to read this!
*
The Rooftop Gardens Project
(Montreal-based)
*
Santropol Roulant
(Montreal-based)
Labels: cake, carob, recipes - desserts, spelt flour, spices