Exciting news!
Okay, so I disappeared for the month of June.
Blame it on my
Shiatsu
Final and an unusual amount of visits with my long-distance significant other, amongst other things. And truth be told, my eating habits have been strange and simple with snacks like dates with raw cacao nibs, and glasses of goat's milk with a spoon of raw honey... nothing worth basing a recipe around.
But I have some big news that I can finally announce with confidence as I just slid my contract in the mail today: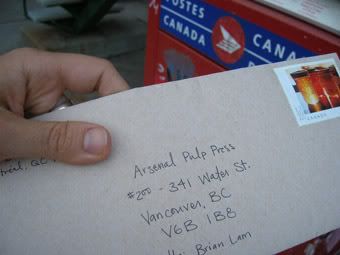 My cookbook is (finally) going to published by
Arsenal Pulp Press
!
The
Canadian Vegan Publisher - they were the ones who brought you
How It All Vegan!
,
Vive Le Vegan!
,
Foods That Don't Bite Back
and the likes.
Expect it next spring.
And the title? As in stands right now it's
Get It Ripe: a fresh take on vegan living
.
Wheeee!
Labels: Get It Ripe