Sprouting makes things better
My friend, former teacher and now, I suppose, colleague,
Caroline
turned me on to these: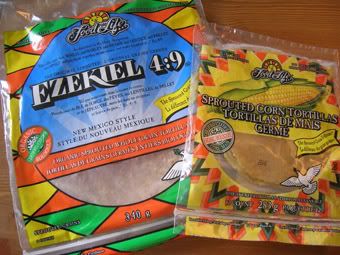 Food for Life
's Ezekiel 4:9 Organic Sprouted Grain products - like these wraps that you see above. I picked them up at
Provigo
(that's Loblaws to you outside of Montreal) in the freezer of the Natural Foods section - but it'd be even better to get them at your local health food store (you know, support the little guy).
Maybe I've mentioned this before, but maybe not - when something is sprouted its nutrients become the most bio-available to us that they can be. And because sprouting makes things easier to digest, ever with my wheat intolerance I can comfortably eat their products that contain sprouted wheat. (They do also have gluten-free products for those of you with Celiac's and the like.) A wrap makes a really great meal or snack, thawed or toasted and stuffed with salad, hummus and veggies, or even banana peanut butter and freshly ground flaxseeds. And each wrap contains 6g of protein (thanks, sprouted lentils!) and 5g of fibre.
Yesterday I took a couple of the corn tortillas, toasted them briefly in a dry skillet on the stove top, and made a great lunch: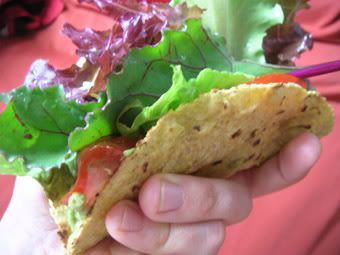 Inside is a quick guacamole (1/2 - 1 ripe avocado, a grated clove of garlic and a pinch each of cumin, cayenne/chipotle powder, coriander and sea salt, and a squirt of fresh lemon or lime juice, all mashed together with a fork), slices of tomato and baby greens (both of which are local and organic - yes! it's that time of year!).
Real simple. Yum.
***
In other domestic news, I have a new knitting project on the go: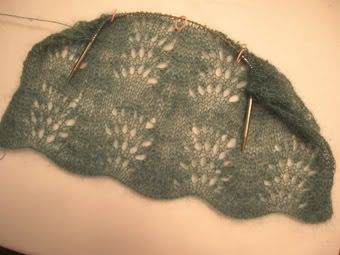 I've progressed since I took this on Wednesday night
I have a strapless dress to wear to a wedding (friends of Ryan's) in Kingston on July 15. I have shoes to go with, but nothing to cover my shoulders. I asked around to more quick and competent knitters about doing a barter with me, but no one took the bait (it's so last-minute, I understand) so I'm doing it myself.
1 ball
Rowan Kidsilk Haze
(purchased cheap in
Edinburgh
last summer)
12" US7 Addi Turbo circs (easier than
Denise
for lace, I find)
I've made up the pattern too because I couldn't find anything online or in my knitting resources that really grabbed me and that I could memorize.
According to my calculations I need to do at least one section (including 4 reps of the lace - that's about 24 rows in a section - and it's taking me between 5 and 15 minutes per row depending on my level of distraction and whether it's a lace row or a straight knit or purl row) each day in order to be done by the 14th. (Don't want to be knitting in the car on the way there!) Thankfully they're letting needles on the plane - I plan to get lots done on my four-day trip down to Florida next week.
Oh and guess what - I finally attended my first SNB since I moved to Montreal last night. The were only three of us at the Cafeo in the Plateau, but it's always nice to chat with other knitters.