Bits and pieces
No Foodie Fridays this week as I'll be away from tomorrow until Sunday at a
Vipassana Meditation
course.
I thought I'd catch you up on a few things. First, thanks to all of you who weighed in on the author's photograph debate. In the end I scrapped all of them though (I started looking at other authors' photos and realized the background was an important consideration too) and am using one taken by my long-time friend Michelle: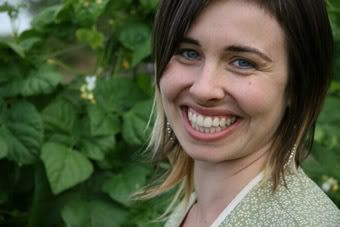 It's better, don't you think?
Also, for those of you who are interested in zines, do you know about the online zine encyclopedia
ZineWiki
? I'm somewhat embarrassed to admit that I found it one day when I was Googling myself. Someone had already created
a page for me
!
And finally, for those of you who live in Montreal, or who know folks in Montreal who you could pass the word on to, I'm recommencing my monthly nutrition talks at
Co-op La Maison Verte
on Monday September 10. I would really appreciate decent turn outs for these events - they're really quite affordable ($7-10 for 1-1.5 hours of nutritional information). These kinds of events are always posted in the sidebar in
Live In Person!
Okay, have a nice week - maybe you'll do some meditating yourself.