If you're a cereal-at-breakfast person
First, an announcement. I have started an e-mail list of people who are into testing recipes for me that I've deemed polished and ready for the cookbook. You get dozens of recipes in exchange for feedback and the promise that you'll keep them to yourself.
Interested? Drop me a line at domesticaffairATgmailDOTcom .
Second, I wanted to mention that zines are not available by mail order at this time. It's something that feels impossible to keep track of for me right now. If you're in Toronto you can pick up my publications (the ones in print, at least) at
the Toronto Women's Bookstore
, and if you're in Montreal you can get them at
L'Arterie
. If you have put in a zine order at some point rest assured that you will eventually get your zines. I'm no crook.
Ah, now. On to food:
Morning Muesli
Muesli is defined as a breakfast cereal based on uncooked rolled oats and dried fruit. Here's my version.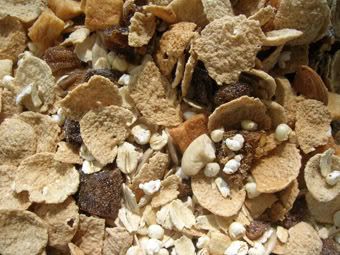 4 cups cereal flakes (I like Nature's Path EcoPacs of Heritage Flakes, Millet Rice Flakes or Mesa Sunrise Flakes)
2 cups rolled oats
1 cup puffed grains (I like Nature's Path Kamut or Millet Puffs)
1/2 cup organic raisins
1/2 cup dried fruit, chopped if needed (ie. unsulphured apricots, dates, dried cranberries, dried apple, coconut flakes, or additional raisins)
1 tsp. cinnamon
1/2 cup raw almonds, walnuts, cashews or other nuts, chopped
1/2 cup raw sunflower, flax, pumpkin and/or sesame seeds
Combine all ingredients in a large bowl and toss until everything is evenly distributed. Serve in cereal bowls with non-dairy milk or yogurt. Store remaining muesli in an airtight container.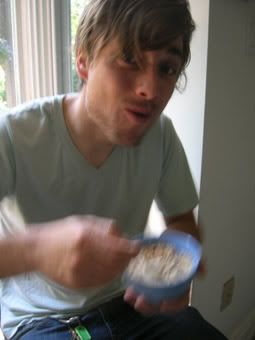 ...and here's RJ, who'll likely eat the entire double batch I just made.
Labels: almonds, cereal, nuts and seeds, oats, raisins, recipes - breakfast