An old stand-by
I've just learned that chickpeas contain all nine essential amino acids, which make them a complete source of protein - another reason to love them as much as I do!
They're not, however, one of the easiest beans to digest - to help 'em go down a little smoother, try peeling off their translucent skins (that's the less digestable part).
Chickpea Salad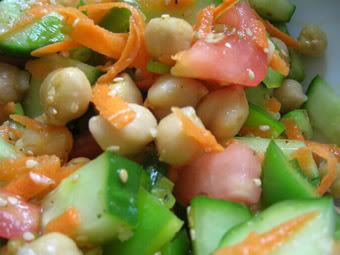 This makes a good packed lunch, and the amount of protein from the chickpeas should tide you over till dinner-time.
2 cups cooked chickpeas (or 19 oz can, rinsed)
1 bell pepper (green or yellow pepper), diced
1 organic tomato (preferably local - there's no excuse at this time of year!), diced
1/2 medium cucumber, cut length-wise in quarters and then sliced
1 carrot, grated (optional)
1/2 cup diced red onion or scallions
1 large or 2 medium cloves garlic, pressed or minced
2 tbsp. flaxseed oil or olive oil
1 tbsp. fresh lemon juice
1 tbsp. unhulled (brown) sesame seeds
1 tsp. sea salt
freshly ground pepper, to taste
Put all ingredients into a large bowl and toss to combine.
Transfer to a sealable container and refrigerate until serving (will keep for about 3 days). Serves 2 - 4.
Labels: bell peppers, carrots, chickpeas, cucumber, recipes, sesame seeds, tomatoes