A summer treat
I know it's not Friday, but not only has it been far too long since we had a recipe, Friday's also my & RJ's anniversary, so I hardly think I'll want to be spending any time on the computer.
In an attempt to highlight local foods (RJ and I are reading
The 100-Mile Diet
right now - what a smart and beautifully-written book!), I've picked a recipe that you'll likely need a garden, or at least a balcony for:
Fried Green Tomatoes
I never really associated anything but a movie with green tomatoes until Karla worked on the Sun Run Farm and started frying them up when I came for a mid-summer visit. If you don't live on a farm or have a garden I'm not sure where you'd find green tomatoes – ripe red ones make quite a smeary mess.
These are a fun, if not sour, local treat – just try not to think of Chris O'Donnell being hit by a train as you enjoy them.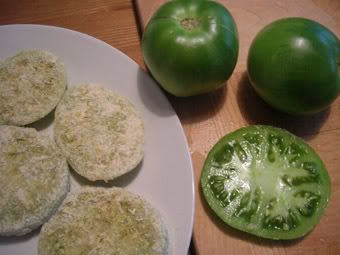 4-5 medium green tomatoes (and I mean green – no red at all)
1/4 cup whole grain flour
3 tbsp. nutritional yeast flakes
2 tbsp. cornmeal
1 tsp. sea salt
1 tsp. Sucanat or organic sugar
1/8 - 1/4 tsp. cayenne or chipotle pepper
olive oil or sunflower oil for frying (about 1/4 - 1/3 cup)
Slice the tomatoes about a 1/2 cm thick, discarding the ends.
In a shallow bowl, combine the flour, nutritional yeast, cormeal, salt, sugar and pepper. Drege the tomato slices in the flour mixture, covering each side thoroughly.
Pour about a tablespoon of oil into a heavy-bottomed frying pan (cast-iron's the best for this) and heat over medium-high until the bottom of the pan is coated. Toss coated tomatoes into the hot (but not smoking) oiled pan and fry on both sides until golden brown (about 4 minutes for the first side, 3-4 minutes for the second side – you want 'em brown, but not black). Repeat with the rest of the tomatoes, adding another tbsp of oil for each round.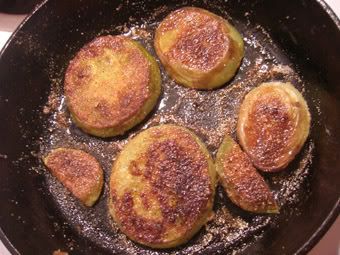 These suckers are really best straight outta the pan. (Okay, well wait about a minute so you don't burn yerself.) Let 'em sit for 20 minutes and they're nowhere near as scrumptious.
Serves 4. I like them for breakfast with salad and toast, or maybe at dinner with fresh corn on the cob.
Labels: chipotle pepper, cornmeal, nutritional yeast, recipes, tomatoes