Festive-coloured late-summer dish
Beet and Green Bean Toss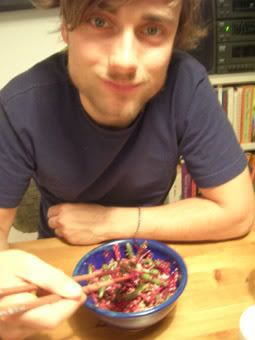 RJ, politely posing with his mouth fullThere are a couple of great things this recipe has going for it: it looks pretty, it's really effin simple, it tastes good and is good for you... and you can get both locally-grown green beans and beets this time of year at your local farmers' market. I know this because I saw 'em with my own eyes at Jean Talon yesterday! This can be served as a side dish, or put it on top of steamed grains, sweet potatoes or fresh salad greens for a full meal.
2 cups green beans (organic strongly preferred), stemmed and halved
1 cup spiralized, grated or julienned beets*
1/4 cup salad dressing**
1 tbsp. unhulled sesame seeds (brown or a mix of brown and black)
* I have a great tool called a
spiralizer
that I use to turn particular root vegetables into long delicate strands. They're big amongst raw foodists for getting veggies to look like spaghetti noodles and such - I'm pretty sure you should be able to find them at a kitchen store for about $25. Another option is to take your peeler and flick off thin slices - I prefer that to grating, personally. And yes, the beets stay raw - I'm amazed at how often people are surprised that I don't steam my beets!
** Of course, homemade is best, and you've got a bunch to choose from in the Domestic Affair archives. I'd recommend picking something without too much colour though (no balsamic, unless it's white) so that the beautiful beet red and green bean green can shine through.
Lightly steam the green beans till they're
al dente
, about 3-4 minutes. Toss with the beets, dressing and seeds. Over grains or additional veggies, it serves 2, as a side dish it serves 4.
Labels: beets, green beans, sesame seeds