Two Indian-inspired treats
Does anyone know where I can get fun fridge magnets? I'm in the market for good fridge magnets and I always seem to not have enough.
Okay, I swore I wouldn't post more than one recipe at a time so that I'd never have to be absent on Foodie Fridays for lack of recipes, but neither of these make a full meal, and they even compliment each other nicely, so I caved. Just this once.
Turmeric Tofu Triangles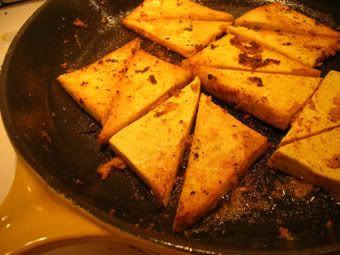 Elise and I made these last week when I had her over for dinner. It's a recipe I'd been meaning to develop for a while (turmeric is an anti-inflammatory and supports your liver - we should all be eating more of it) but had never gotten around to before. They stained everything in my kitchen bright yellow. As Elise remarked, "the lime gives them a brightness that goes nicely with the colour". I agree.
1 tbsp. grated gingerroot
1 large or 2 medium cloves garlic, pressed or grated
juice of 1 lime (about 1 tbsp.)
2 tbsp. tamari soy sauce
2 tsp. turmeric
1 tsp. curry powder (get a good blend - I like
this homemade one
)
1/4 tsp. cayenne (or to taste)
1 lb. block firm tofu, sliced width-wise into 1/2 cm squares
a few tbsp. unrefined coconut oil (or olive oil or high oleic sunflower oil in a pinch) for frying
In a small bowl, mix the ginger, garlic, lime juice, tamari, turmeric, curry and cayenne into a paste.
Now, take all those tofu 'cutlets' and slice 'em in half, on a diagonal to get yourself some nice triangle pieces. Lay these out on a glass or ceramic plate or baking pan. Plop on the turmeric paste, doing your best to distribute it evenly amongst the triangles and allow to sit and marinate for 15 minutes to a couple hours.
In a cast iron or other non-Teflon skillet (
Teflon is toxic
- weren't you reading the news last year?!), warm oil over medium-high heat. Put as many triangles down in the pan as will fit in one layer and fry 'em up till they start to brown in parts and get crispy - about 3-4 minutes on the first side and 2-3 minutes on the second.
Serve as soon as they've cooled just to a temperature that won't burn your mouth.
Date Apple Chutney
Serve with this with any Indian-inspired dish, or just to make a bowl of steamed greens and grains more exciting.
1 tbsp. non-hydrogenated coconut oil or olive oil
1 medium-large onion, fine dice
1 cinnamon stick (keep it whole – resist the urge to break it because you'll have to fish it out at the end)
2 tbsp. apple cider vinegar
2 tsp. ground coriander seed, toasted
2 tsp. ground cumin
2 medium apples, peeled, cored, and roughly chopped
1/2 cup filtered water
3/4 cup (lightly packed) pitted dates
1 tsp. sea salt
In a 3-quart saucepan, soften the onions over medium-high heat with the cinnamon stick for about 5 minutes. Reduce the heat slightly and add the vinegar, coriander and cumin. Cook for 10 more minutes before adding the apples, water, dates, and salt. Be sure to stir occasionally to prevent sticking. Allow to simmer until the apples and dates are broken down (the dates will turn the chutney dark brown when they melt), 45 minutes to an hour. When the chutney's done there will be almost no liquid and it should be a big sticky, gooey mess. Retrieve the cinnamon stick and discard.
Will keep in the fridge for a week or two. Makes about 2 1/2 cups.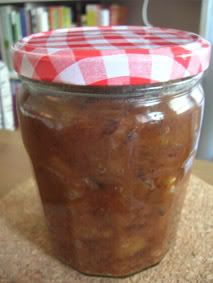 Don't you love those Bonne Maman jam jars? I don't eat the jam myself, but my friend Alison passes hers on to me instead of casting them off to the recycling.
Labels: apples, coconut oil, dates, ginger, lime, tofu, turmeric