Stuff it.
Thanks for your comments last week - keep 'em coming!
Considering which holiday is coming up next week, may I point you to the impressively creative designs on
this site
? Go to the photo gallery - I think I like the cannibal pumpkin and the puking pumpkin the best.
I had meant to post this recipe for Thanksgiving a few weeks ago, but you know how it goes around here sometimes (...shoulda, woulda, coulda). Keep it in mind for American Thanksgiving, all you residents of the United States.
Millet-Stuffed Bell Peppers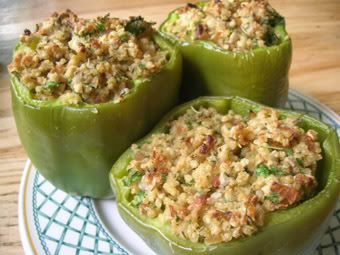 This tasty dish is a wonderful stuffing substitute for vegetarians at a winter feast. It has an impressive amount of protein what with the millet and the tahini and raw seeds, and serving it along side some beans would make the protein complete. Personally, I love its rich taste so much that I don't just wait around for Thanksgiving and Christmas, I make it as often as I think of it. Mmmmm!
1 tbsp. olive oil + 1 tbsp. filtered water
2 medium onions (or so), finely chopped
2-3 cloves garlic, minced
2 tbsp. tamari soy sauce
2 tsp. dried thyme (or 1 tbsp. fresh)
1 tsp. dried rosemary (or 2 tsp. fresh)
1/2 tsp. celery seed
a few twists of the ol' pepper mill
4 cups cooked millet (quinoa or brown rice would also work)
3/4 cup tahini
3/4 cup ground raw pumpkin or sunflower seeds
1/3 cup filtered water or vegetable stock
1/2 cup minced fresh parsley
6-8 organic medium-large bell peppers (any colour)
In a 3-quart saucepan, warm oil and water over medium-high heat. Add onions and sauté until they begin to soften (about 8 minutes). Add garlic, tamari and herbs. Cook for about 5 minutes more.
In a bowl, combine millet, tahini and seeds. Once it is mixed well, add it to the saucepan and cook until everything until well heated, stirring occasionally and drizzling in the water to keep it from sticking to the bottom of the pan. Turn off the heat and mix in the parsley.
Preheat the oven to 375oF.
Carefully slice the tops off the bell peppers,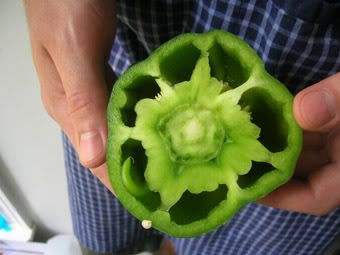 remove the core and veins and stuff the peppers with the millet mixture recipe.
Place peppers upright in a baking pan with a centimetre or two of water at the bottom. Slide in the oven and bake until the peppers are soft – about 25-30 minutes.
Serves 6-8.
***
I won't be around next week as my cookbook manuscript is due at
the publisher's
. Wish me luck!
Labels: bell peppers, millet, parsley, pumpkin seeds, tahini