A good base
It's been weeks -
weeks!
- since I've been over here. I apologize for my inconsistency. It's in part because I am so engrossed in finishing off this cookbook manuscript. But another piece is that with so few comments in the past few months, I haven't been very motivated. You've heard be say it before: When you don't comment, I feel like I'm talking to myself out here in internet land. I may not respond to your comment, but rest assured I do read them and greatly appreciate them. Do I sound a little bit like a Jewish mother (guilt, guilt, guilt)?
Anyhow, the weather's cooled off since I last posted and it's high time I finally offered you a good veg stock recipe. A perfect way to start off all your warming soups.
Vegetable Stock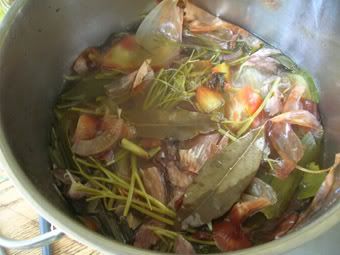 Vegetable stock can replace water in soups and a number of other recipes (like stews, sauces and gravies). It's a great way to make use of veggies that were on the way to the compost, and it adds a bit more minerals and flavour to your food.

As far as I know there are no hard and fast rules to making a veg stock – just work with what you've got.
2 tbsp. olive oil
1 large or 2 medium onions, chopped
3 cloves garlic, chopped or crushed
vegetables and vegetable scraps - carrots, leek greens, parsley stalks, parsnip, mushrooms, celery, zucchini, tomatoes... (but no leafy greens or green peppers, they'll make the stock bitter)
filtered water to cover
16 pepper corns (or one per cup of water)
2 bay leaves
In a large pot, sauté up an onion or two in some oil. Once translucent (about 10 minutes), add a few cloves of garlic. Next throw in some vegetables and clean veggie scraps that you have on hand (sorry-looking scraps are okay, dirty & mouldy ones aren't). Add the water, pepper, bay leaf and herbs. Bring to a boil and then simmer for 30-45 minutes. Strain out the veggies, extracting as much of the liquid as possible. Discard veggies (hopeful you have a compost where you live). Allow stock to cool. Refrigerate for 3 days or freeze for up to 3 months.
* Once I made a stock using the pulp from a bunch of home-pressed carrot/ apple/ ginger/ beet juice. The pulp out had been scooped out of the juicer and stored in sealed containers in the freezer. When we were ready to make stock, we thawed out the pulp and used it in lieu of veggie scraps in the recipe. Needless to say a stock with apple and gingerroot pulp really only lends itself to certain recipes.
** I froze a bunch of stock in glass jars this summer - boy was that a disaster! They all cracked! Get out your plastic tupperware for this stuff if you're planning to store 'em below zero.
Labels: recipes - soups