A Quebecois Christmas Tradition
Put these ingredients on your shopping list - I've got your Christmas (or Solstice, if you're really on the ball) entree here for you.
La Tourtiere aux Millet, Oignon et Champignons
(Millet, Onion and Mushroom Tourtiere)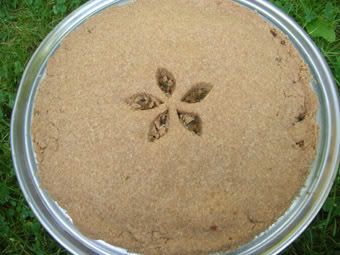 A traditional Québecois dish served at Christmas or New Year's, turned vegan. I was introduced to this recipe when I worked in the Aux Vivres Restaurant kitchen. Best served with rosemary mushroom gravy (which, if you have some of my cookzines you're likely to have) and steamed greens and roasted squash. Mmmm mmm!
Crust
3 cups whole spelt flour (or 2 1/2 cups light spelt and 1/2 cup oatbran)
1 tsp. sea salt
1 cup cold unrefined coconut oil, olive or sunflower oil
2-4 tbsp. cold non-dairy milk or ice water
Pulse flour and salt in a food processor. Add oil, and pulse until the mixture looks like coarse cornmeal. Pour in the soymilk or water, slowly, as needed to form a ball of dough.
Divide dough into 2 even pieces. Roll out one piece onto a clean, floured surface (or maybe between 2 pieces of parchment paper) and gently fit into a 9" pie plate. Trim edges and prick the bottom and sides a few times with a fork. Roll out the second piece in the same way, but set aside until after the pie has been filled.
Keep both pieces of dough in the fridge until they're needed.
Filling
1 tbsp. olive oil
1 large or 2 medium onions, small dice
1/2 lb. mushrooms, sliced
3 medium cloves garlic
3 tbsp. tamari soy sauce
1/2 tsp. sage
1/2 tsp. savoury
1/2 tsp. cloves
1/4 tsp. cinnamon
1/4 tsp. rosemary
1/4 tsp. thyme
freshly ground black pepper, to taste (a few generous twists)
1/4 cup chopped fresh parsley
2 1/2 cups cooked millet
Heat oil in a large skillet over medium heat. Add onions and cook slowly to caramelize about 20-30 minutes, until soft and brown but not crisping. Add the the mushrooms and garlic and cook for 10 minutes more. Stir in the tamari and herb and spice mixture.
Add the millet and cook just until warmed through. Adjust tamari to taste.
Preheat oven to 350oF. Scrape the millet and vegetable mixture into the pie shell. Smooth top into a slight dome. Gently place the other piecrust on top, trim off any excess at the edges and press the edges down with a fork to seal. Prick the top a few times with a fork or cut out some pretty holes with a sharp paring knife (you can get decorative with this).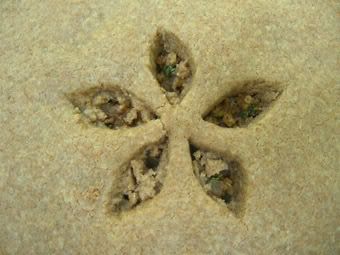 Bake for 20 minutes.
One pie makes 6 decent-sized servings, serve with steamed vegetables or a fresh salad.
Labels: holidays, millet, mushrooms, pie, recipes - entrees, spelt, spices