My new favourite dip
Red Lentil Hummus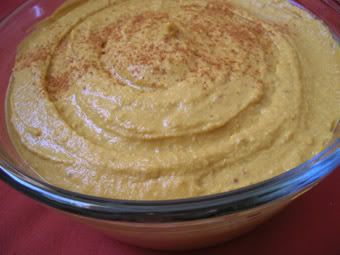 Lentils tend to be easier to digest than chickpeas. They also cook up a lot faster. This variation from your standard hummus makes a great spread for sandwiches, burgers or falafels, or as a veggie dip.
1 cup red lentils, rinsed well
2 3/4 cups filtered water
1/3 cup sundried tomatoes or roasted red peppers
1 1/2 tsp. ground cumin
1 tsp. turmeric
1/2 tsp. sea salt
1/4 cup flaxseed oil or olive oil
1/4 cup tahini
4-5 medium cloves garlic, chopped
1/8 tsp. cayenne pepper, or to taste
Cover the lentils with the water in a 3-quart saucepan and bring to a boil.
Reduce heat, skim off any foam that's risen to the surface.
Stir in the tomatoes (if using), cumin, turmeric and salt, cover and simmer for 20 minutes, until tender.
Uncover and allow to cool for 10-20 minutes.
Combine lentils mixture with the red peppers (if using), oil, tahini, garlic and cayenne in a food processor and blend just until smooth. Adjust seasonings to taste. Chill in the fridge for an hour before serving.
Store in an airtight container in the fridge for up to five days.
Makes 3 1/2 cups.
Labels: garlic, hummus, lentils, recipes, sundried tomatoes, tahini