Munching on the road
Okay, my new goal is to get back to posting regularly at a reasonable pace of every-other Friday. Another goal, is to get you guys commenting more often. The more of you pipping up, the more I'll be encouraged to post again.
Anti-Ox Raw Trail Mix
(if you make this and can think of a better name for it, please let me know)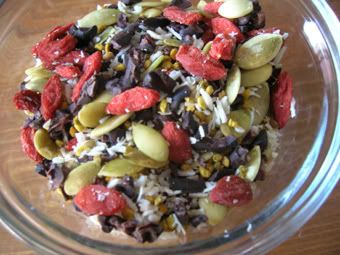 Here's a sweet (but not too sweet) little snack that's delicious and full of good things. Carry it with you wherever you go and there'll no longer be any need to panic when you're out of the house and your blood sugar levels are low. All the ingredients should easily be found at your local health food store.
3 parts gogi berries
3 parts raw cacao nibs
3 parts raw pumpkin seeds
1 part unsweetened shredded coconut
1 part bee pollen (optional)
Mix all ingredients up in an airtight container. It'll keep for a few months at least. Carry it around in yer backpack, but also keep some at home - maybe you'll want to sprinkle some over a less-than-exciting cereal.
Feel extra-good about eating this with the awareness of the nutritional virtues it provides:
Gogi berries
"contain 18 kinds of amino acids (six times higher than bee pollen) and all 8 essential amino acids (such as isoleucine and tryptophan), as well as up to 21 trace minerals (the main ones being zinc, iron, copper, calcium, germanium, selenium, and phosphorus)."
Raw cacao nibs
have "14 times more antioxidant flavonoids than red wine, 21 times more than green tea or black raspberries, 30 times more than blueberries, and 7 times more than dark chocolate! Anti-oxidants remove free radicals known to cause damage to living cells."
Raw pumpkin seeds
"are a very good source of the minerals phosphorous, magnesium and manganese. They are also a good source of other minerals including zinc, iron and copper. In addition, pumpkin seeds are a good source of protein and vitamin K." They have more protein than other seeds - about 29%.
Unsweetened shredded coconut
contains fibre, B vitamins, iron and zinc.
Bee pollen
is "made up of approximately 35% protein, 35% carbohydrate, 2% fatty acids and 3% minerals and vitamins (A, B, C, D and E) as well as trace elements and other micronutrients." It's also high in anti-oxidants, possessing immune-boosting properties.
(I grabbed direct quotes from a few websites that specialize in raw food nutrition.)
Labels: cacao, coconut, gogi berries, pumpkin seeds, snacks