The Tuesday Review
Foodie Fridays has been such a hit over the past three years, that I thought I'd introduce a new weekly theme day:
The Tuesday Review
.
I often get asked what my favourite cookbooks are, and as an author myself, and with a collection of something close to 100 cookbooks, I've sure got a lot of opinions to share! But as I don't spend my life reading cookbooks, the reviews won't just be for vegan cookbooks - I plan to give a nod to interesting websites, blogs, films, restaurants, products and zines too! (Feel free to make suggestions - better yet, send something my way! Just e-mail me for my mailing address.)
And I promise to post a review at least every-other Tuesday if you promise to show up, read, and comment.
And the first book (...drum roll please...):
The Balanced Plate
by Renee Loux (Rodale, 2006)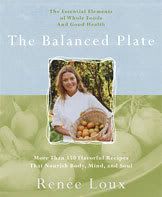 Overall feeling:
I first sought out Renee after watching the doc
Go Further
, where she joins Woody Harrelson and some friends for a bike tour down the west coast of the US. In the film she enthusiastically explains the composition of her decadent raw Chocolate Avocado Pie. From that quick clip you can tell Renee's energy is contagious. Renee is a celebrity chef, perhaps most known for her interest in living/raw foods. For many, her second book may seem more approachable than her first. Not because this one's better (they're both great), but because it offers an assortment of both raw and cooked recipes - proving that the best approach is a balanced one.
Best bits:
An impressive resource for information on whole foods ingredients, organic and local produce choices, water filtration and other home projects, not to mention nutrition from a number of different angles, including Ayurveda and Macrobiotics. There are easy-to-follow charts on things like seasonal produce and roasting veggies. I trust Renee's recipes because they're clearly written, and she introduces them with an enthusiasm that makes my mouth water every time.
Some of the ones that make the top of my "To Try" list: Endive Cups with Pine Nut Creme Fraiche, Fresh Figs, and Olives; Roasted Corn and Tomato Soup; Raspberry Lavender Lemonade; Roasted Beet Carpaccio; Pear and Pecan Torte with Lemon Ginger Cream.
Less-wonderful bits:
There are a number of recipes that the average cook won't be able to whip up from the ingredients that we generally have in our pantries. It's time to get to know umeboshi plums and lotus root. Save recipes like Andalusian Gazpacho with Avocado Sorbet for some time other than a lazy weeknight.
Whole foods focus?:
indeed!
Vegan-friendly?:
100 percent! (even though it's not advertised as such)
Eco-conscious?:
yes!
Web presence?:
yup.
Labels: cookbooks, The Tuesday Review