Comfort soup
Despite the complete melting of the snow around these parts, and the move from winter coat and boots to the vest-over-fleece-hoody combo with sneakers (as you can tell, I always like to be at the height of fashion, even if it's just for a trip to the health food store down the street), I've really been looking for coziness in the past week. I've been using the fire place at my parents' house (my apartment doesn't have one, sadly), and making comfort foods. Like this one:
Leek and Potato Soup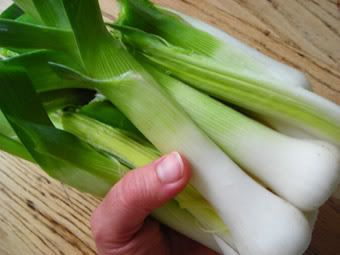 A classic from my mum – now dairy-free!
Leeks can be sandy, so the trick is to slice 'em length-wise and rinse 'em well between each layer before putting them on the cutting board.
I like to ladle this soup over a big bowl of steamed kale.
3 tbsp. olive oil + 2 tbsp. filtered water
3 large or 6 small leeks, chopped with green tops and hairy rooty bits removed (about 5 cups)
4-5 good fist-sized potatoes (about 1 kg.), peeled and sliced to about 1/4-inch thick
2 1/2 cups filtered water or vegetable stock
1 tsp. sea salt, or more to taste
1/2 tsp. ground nutmeg
a few good twists of pepper (black or white pepper)
2 cups organic non-dairy milk (something creamier, like unsweetened almond milk or soymilk, would be better than something thin like rice milk)
1/4 cup finely chopped chives (optional)
Heat the oil and the 2 tbsp. of water in a soup pot. Add the leeks and sauté until soft, being careful not to let them brown (about 10 minutes).
Add the potatoes, water, salt, nutmeg and pepper, cover and simmer until the potatoes are soft (about 20-25 minutes).
Mash everything, or pour it into a blender for a quick whirl (I don't like it to be completely puréed, a bit of texture is nice).
Add the milk and heat gently for 5 more minutes. Adjust seasonings to desired taste. Serve garnished with the chives if you so desire.
Makes 6 servings.
Labels: leeks, potatoes, recipes - soups