Slice after slice
First thing: from here on out, be sure to put domesticaffairDOTcom out of your mind (as I decided not to renew the URL this year), and always visit domesticaffairDOTca from now on.
Also, please keep submitting votes and suggestions for cookbook-related slogans (two posts down)and please join the Facebook groups for Domestic Affair (link on the right) and
Get It Ripe
.
In the end though, it always comes back to baking... doesn't it?
Cranberry Almond Loaf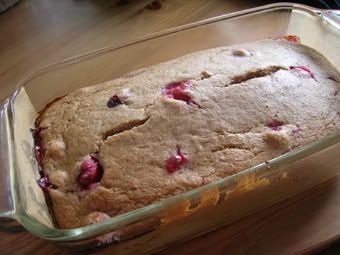 The tartness of the cranberries and the sweetness of the almonds make for a nice blend of flavours here. These loaves are pretty enough that I like to wrap them up nice and give them as gifts.
2 1/2 cups spelt flour
1/2 cup organic sugar or Sucanat
2 tsp. baking powder
1 tsp. baking soda
1 tsp. cinnamon
1/2 tsp. sea salt
1 1/4 cups non-dairy milk
1/2 cup applesauce
1/3 cup softened unrefined coconut oil or sunflower oil
1 tsp. vanilla extract
1 tsp. almond extract
1 1/2 cups frozen or fresh cranberries (about 6 oz)
3/4 cup chopped almonds
1 tbsp. cider vinegar
Preheat oven to 350oF.
Prepare two 8.5 by 4.5-inch loaf pans or 4 mini-loaf pans with a light coating of oil and a dusting of flour. Line with parchment paper if desired for greatest ease of removal at the end.
Whisk together the flour, sugar, baking powder and soda, cinnamon and salt in a large bowl. Add the milk, applesauce, oil, vanilla and almond extracts, and stir just until all of the flour is absorbed. Fold in the cranberries and almonds (truth be told, the loaf pictured here doesn't actually contain almonds, I ran out) and then quickly stir in the vinegar just until it's evenly distributed.
Portion batter evenly into the loaf pans and bake for about 35 minutes (minis) or 45 minutes (medium), until the tops are domed and a toothpick inserted in the centre comes out clean.
Makes 2 medium loaves (as seen here) or 4 mini-loaves.
Stores in an airtight container for 2 days, or in the fridge for up to a week.
Labels: almonds, applesauce, cranberries, loaves, recipes, spelt flour