The Best Baking Resource (even if it's in no way alternative)
Second stab at the Tuesday Review. Welcome, welcome!
The Book:
Baking Illustrated
by the editors of Cook's Illustrated Magazine (2004)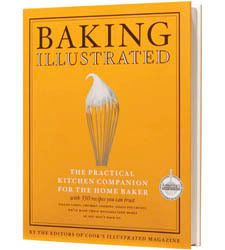 Preamble/Overall feeling:
It was my friend Alison (who did the food styling for my cookbook) who first introduced me to
Cook's Illustrated
magazine. Better than any of the other culinary mags on the market (in my humble opinion), it seems
Cook's
is written by a pack of hungry scientists. They'll take a dish and try out making it from every possible angle, switching up the variables until they come up with the perfect recipe. And they take time to explain all their testing steps before giving you the final recipe, which really makes it like food porn with foreplay and everything.
It wasn't long before I discovered that they (America's Test Kitchen) also published thick hardcover books, but at about $40 a pop, I have really tried to choose to invest in their magazines or their books and not both. (Especially since all their publications contain meat recipes which are of absolutely no use to me.) Anyhow, all this brings me to
Baking Illustrated
, which is an impressively thorough resource on all matters of conventional (meaning white flour, white sugar) baking.
Best bits:
This book is smart, clear, thorough and even has tonnes of gorgeous photographs. It has proved to be a very valuable reference for me as a baker. As a true culinary artist, it pays to learn outside the box (for example, I could stay in the land of cookbooks produced by self-taught vegans, but I think that reading about recipes I will never make actually makes me a better recipe writer).
Less-wonderful bits:
I have actually never made a single recipe from the 350 in this book - sometimes because the method is too finicky (which, in their defense, is fair if they're guaranteeing perfect results) - however mostly because of the three following points:
Whole foods focus?:
Nope!
Vegan-friendly?:
No way!
Eco-conscious?:
Not a chance!
Web presence?:
yes
Labels: cookbook, The Tuesday Review