Ruby red local dessert - mmm mmmm!
A
Get It Ripe
press update to start:
*
a review in Taste T.O.
Now, as you may know, my sweetheart and I finally moved in together almost two months ago, and our kitchen negotiations have been interesting. Turns out I am more of a culinary bossy-pants with my loved ones than I'd expected to be, and I've had to adapt my approach in order to help Ryan feel empowered to make things instead of simply relegating him to dish-washing boy status. While I made us dinner the other night, Ryan pulled out a copy of
Get It Ripe
and tackled dessert, making his first crumble, with local fruit from
our farmers' market
....
Strawberry Rhubarb Crumble
A delicious early to mid-summer treat. You try keeping yourself from eating the leftovers at every meal until there's none left - we weren't able to resist!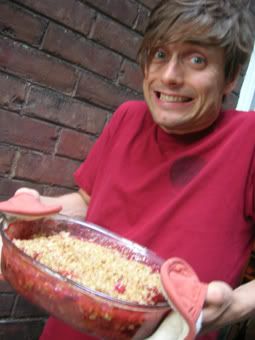 Fruit bottom
5 cups chopped rhubarb stalks (just less than 1 1/2 lbs. - cut into 1 inch piece)
1 1/2 - 2 cups sliced organic strawberries (about 14)
3/4 - 1 cup organic sugar* (fair trade if possible)
2 tbsp. tapioca flour, arrowroot powder, kudzu or non-GM cornstarch
Crumble top
1 cup rolled oats
3/4 cup whole grain flour (we used oat flour)
3/4 cup organic sugar (fair trade if possible)
1/2 tsp. sea salt
finely grated zest of an organic orange or lemon (optional)
1/2 cup non-hydrogenated coconut oil
Preheat the oven to 350oF.
Toss rhubarb and strawberries with the sugar and starch in a 2.5 litre baking dish. Rub the oats, flour, sugar, salt and zest into the oil in a separate bowl. It should be kind of clumpy.
Spread crumble over prepared fruit and bake for 35-45 minutes, until fruit is soft (poke a knife in to see) and the crumble top is dry and maybe just beginning to brown.
Enjoy warm, possibly with organic (non-dairy) yogurt.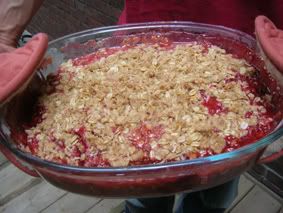 *
For sugar in the fruit bottom, we actually used 2/3 cup organic sugar and 1 tsp. stevia powder with great success! It wasn't too stevia-y, and we felt better having less sugar in there.
Labels: crumble, oats, recipes, recipes - desserts, rhubarb, strawberries