Kicky pesto; sunny picnic
Have you been seeing these bunches of green shoelacey-looking things the past few weeks at your farmers' market? They're called garlic scapes, and while you can chop 'em up and throw them in salads, soups and stir-fries, they also make a mean pesto.
Garlic Scape Pesto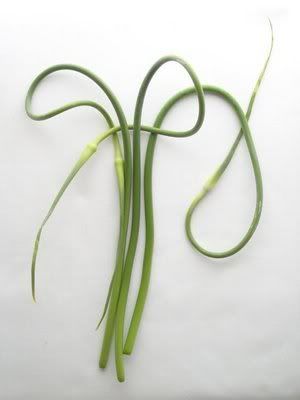 Liz and Michael (pictured below) passed an unvegan version of this recipe on to me, which I quickly converted. The scapes replace both the basil and the garlic from a traditional pesto recipe. (For the record, I didn't take the pic above - the sun was down when I was preparing this post and you know I'm not one for flash photography!)
1 cup chopped garlic scapes (about 10 scapes)
2/3-3/4 cup raw nuts or seeds (walnuts, cashews, almonds, sunflower or pumpkin seeds - or a combination of a few!)
3/4 tsp. sea salt
a good few twists freshly ground pepper
1/2 cup olive, flax or walnut oil
1/4-1/2 cup filtered water
Throw the scapes, nuts (or seeds), salt and pepper into a blender or food processor and give it a good whirl. Stop the machine, scrape down the sides with a silicone spatula, and whirl again until a pretty uniform paste is achieved (you may need to stop and scrape again). While the blades are still whirling, pour in the amount of water needed to get the desired pesto consistency (it's up to you, but I go with the larger amount of water - and pouring the water in like this makes the pesto creemy, which is nice).
Serve over pasta, on pizza, in salads, as a dip... whatevah!
Now, if you're on
the Get It Ripe facebook group
or have checked the events page on
the Get It Ripe website
, you know that we had a potluck picnic on the Toronto Islands last week. It was great! Good food, gorgeous weather (though I forgot to sunscreen my back and got a wicked burn which still smarts), and even bubble wands that make 2-foot bubbles!
And with our celebratory Indonesian umbreallas (which typically live in my parents' living room), passersby kept stopping to check us out.
Here's a quick look: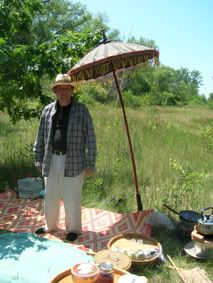 David, of
Get It Ripe
illustration fame, setting up the umbrellas and little stove.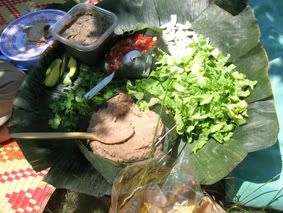 He and my mum brought Pinto's Refried Bean Burritos with all the fixin's, including Fresh Salsa (set out on banana leaves - yup they're real... you get 'em in China Town in the grocer's freezer). You also see Cilantro Black Bean Dip in the less attractive container there, and the bag of corn chips in the foreground.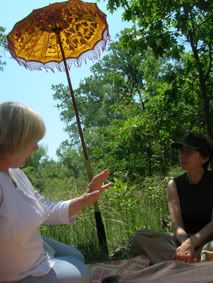 My mum's good friend Lynn, who lives on the Island, stopped by. She used to attend summer picnics with my family in the exact same spot over 20 years ago (and brought pictures to prove it).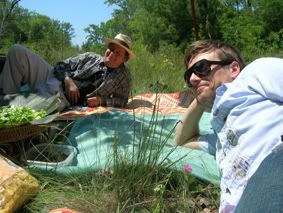 David and Ryan kicked back in the sun...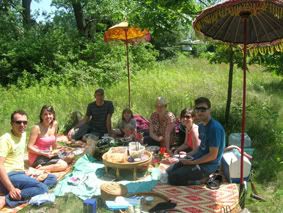 ... and before long, more friends arrived.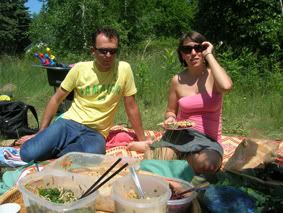 Neil and Sara...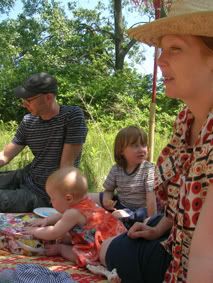 Michael, Liz, and their wee ones.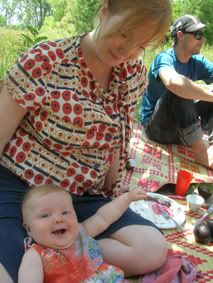 Kids really make a picnic.

Fun with bubble wands followed (Neil has those pics, maybe I'll insert them if he sends them to me)...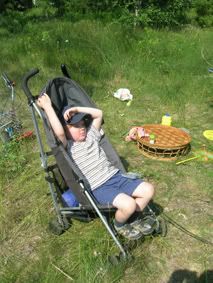 ... till we were tuckered out.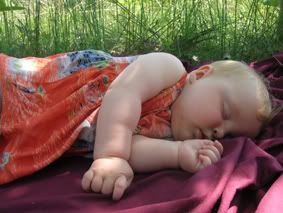 Some of us couldn't make it to the end without a nap in the shade...
If you're in the GTA, you simply must join us for our next picnic. (Details in the sidebar!)
Labels: garlic scapes, nuts and seeds, Potluck Picnic, recipes