Keeping ice cream company
It's ice cream season, no doubt about it.
There are so many non-dairy varieties to choose from. Some are not so inspiring, others are knock-out tasty. Do you have a particular fave?
I'm pretty stoked to try the
Purely Decadent flavours made with coconut milk
, I'll tell ya that. The new
Natura Glace
, while more local and relatively inexpensive, I thought was okay, but it didn't blow my mind.
If you're going for a dairy variety, skip the unreasonably pricey and non-organic
Haagen Dazs
and especially the crappy grocery store brands and go for the ones
sans
yucky hormones and scary antibiotics. Local to me there's
Kensington Market Organic Ice Cream
and
Mapleton's Organic
.
One thing we're fond of at my house is sandwiching some cold creemy sweetness between a coupl'a Double Trouble Chocolate Cookies (see
Get It Ripe
for the recipe, of course). Another option though is to serve it up in a bowl with a special crunchy/sticky topping.
Candied Pecans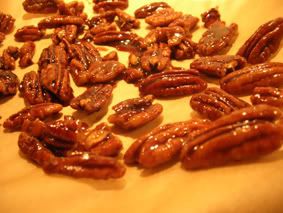 This recipe can easily be doubled or tripled, just be sure to use a larger skillet*.
1/2 cup pecan halves
3 tbsp. maple syrup
1/4 tsp. cinnamon (optional)
1/8 tsp. sea salt
1 tbsp. non-hydrogenated coconut oil, sunflower oil or olive oil
Toss pecans in a small skillet and toast over medium heat for up to 5 minutes, stirring once or twice to toast evenly. Shake them out of the pan and set aside.
Combine the syrup, cinnamon and salt in a small bowl, stir and set aside.
Heat the oil in the same skillet, still over medium heat. Add the pecans back in, along with the syrup mixture, and stir constantly until the pecans are all coated and the syrup thickens a bit (about 4 minutes). Scrape onto a plate lined with a piece of parchment and allow to cool (and harden) before chopping into smaller pieces, if desired, and using to garnish ice cream (or mousse, or pudding or pie, or whatever your little heart desires).
* I like cast iron skillets myself. Please protect your health and the environment by steering clear of Teflon-coated pans. Read a great article about it
here
.
Labels: maple syrup, pecans, recipes - desserts