Last tastes of summer
This post is a little overdue, as the experience I'm talking about happened a few weeks ago, so please excuse the lack of detail. (And yes, I'm aware it's not a Tuesday, the typical review day, but this blog was in dire need of a new post!)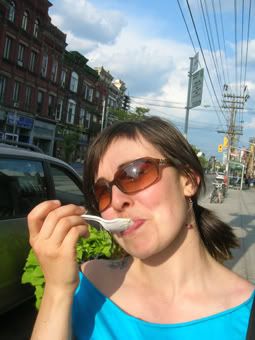 Now as you may have noticed from past mentions, I've been rooting for
Kensington Market Organic Ice Cream
since it first came out, maybe 4 summers ago. While this small operation may use dairy and eggs, it's organic, local, and offers tonnes of awesome flavour combinations, like Emotional Rescue (cardamom vanilla), Blueberry Lavender, Chocolate Ginger, Mo' Fig (molasses and figs), and Chocolate Doo-Dah (chocolate-coffee-cayenne), so I'd say it's already pretty progressive as far as desserts options in this city go.
I'll admit, I was a little cranky with
Brad
, the brain and brawn behind the operation, last fall when he promised to contribute a vegan coconut sorbet recipe to
my cookbook
and then never delivered, but I'm mostly over it now.
I first heard of KMOIC's new "line", like I said, a few weeks ago when Ryan called me from work one night saying "Good news - Emery just told me that Kensington Market Organic Ice Cream now has vegan soft serve!"
At the time this did
not
feel like good news, and I told Ryan so, but only because I was on a cleanse and avoiding all sugar. But once the following weekend rolled around and I declared that cleanse done, we motored right down to the little shop on Palmerston Av., just north of Queen West, to do a bit of taste testing.
The shop now offers vegan sorbets (Brad always reminds me that a non-dairy frozen dessert can technically never be "ice cream"), all soy-free I believe, in a number scoopable flavours (the day we went they all seemed to be chocolate-somethings) as well as the aforementioned vegan soft serve, which I am most jazzed about, as I have always preferred my ice cream soft.
Brad offered me samples of two creamy treats, one which has managed to escape my memory, the other being Lime Coconut Avocado Banana, which was absolutely deelish (and explains why I didn't get around to photographing it until this point in the experience:)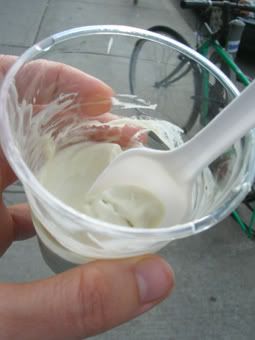 If you're in the Toronto area, get thee to the little shop no longer in Kensington Market proper, before they close up sometime this fall and you have to wait till next year to get your hands on it again!
Labels: Kensington Market Organic Ice Cream, The Tuesday Review, vegan ice cream