Tea-time date
Date Pecan Scones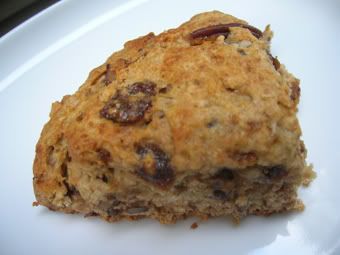 I have said the name of this recipe more times than I care to think of. If you've ever been to Cherry Bomb, where I worked as counter staff (and as an occasional baker) all summer, you'd understand. Let's be clear though, these scones share very little but the name with the conventional white flour/butter/cream version they have there.
2/3 cup 'sour milk' (the juice of 1/2 a lemon
or
1 tbsp. apple cider vinegar + non-dairy milk)
1 tbsp. maple syrup
1/2 tsp. pure vanilla extract
2 cups spelt flour
2 tsp. baking powder
1/2 tsp. baking soda
1/2 tsp. sea salt
1/3 cup non-hydrogenated coconut oil (or dairy-free non-hydrogenated margarine in a pinch), cold
1/2 cup roughly chopped pitted dates
1/2 cup roughly chopped pecans
Preheat oven to 400oF.
Combine the 'sour milk', maple syrup and vanilla in a small bowl (or right in measuring cup that you made the sour milk in).
Whisk together the flour, baking powder and soda and salt in a large bowl. Cut in the coconut oil using a pastry cutter or two dinner knives. Add the liquids, dates and pecans and mix them in. Turn out onto a floured board and divide into two. Knead each piece lightly for about half a minute into a ball, and place on a floured, oiled or parchment-lined baking sheet. Flatten the ball with your hand to about a 1-inch thickness. Cut across into four (or six) wedges.
Bake for about 20 minutes, until the insides aren't doughy and the bottoms are golden, but not deep brown.
Makes 8 (or 12 littler) scones.
Labels: baked goods, coconut oil, dates, Foodie Fridays, pecans, scones