Gee, thanks!
As this is Thanksgiving weekend (here in Canada), I thought I'd explore the holiday from two different angles:
First: this holiday is supposed to be about
thanks
- you know, being grateful for what you have; and also about
giving
- being generous with what you have. Manifesting an "attitude of gratitude" is a fantastic skill as it encourages positivity, and one that I certainly put some deliberate time towards fostering in my mind on a daily basis.
Here, I'll take a stab at it now - the first 5 things that come to mind that I feel so blessed to have in my life:
1. You, my readers, who take interest in what I have to say, and comment after my posts so I know I'm not talking to myself out here in internet land.
2. The lovely guy sleeping in the next room who cleans up my kitchen messes, and not only
doesn't
think I'm nuts for enjoying "green drinks" and "fibre drinks", but joins me in drinking them!
3. My mum, who is always ready to help with anything I need, including looking up poems in the children's books in her basement (see below).
4. My (step-)aunt, who hosts us for Thanksgiving dinner every year (and who also did many of the illustrations in
Get It Ripe
), as well as the rest of my family and friends who'll be around the table tonight.
5. The beautiful autumn we've been having.
6. Central heating, which is included in our rent (Thanks landlords!).
7. The makers of
The Tudors
, which I am so enjoying watching these days, and the kind folks who put it up online for me to download.
8. My comfy new star-print flannel pj pants that I'm wearing as I sit and write this Sunday morning post. (Okay, that's eight things, but if the gratitude is flowing, why stop it?)
It would be neat to take some time today or tomorrow, either on your own or with your fam and friends as you prepare your Thanksgiving feast, to consider all the people who had a hand in making your Thanksgiving dinner happen. There're the obvious folks: the people you're "breaking bread" with, the farmer's who grew your food, the people who prepared the food, the person who wrote the recipes you're using (ha ha) ... but when you really think about it, there's the person who invented ovens, and the manufacturer of your oven, the one who invented the phone, and the folks at the phone company who allowed you to make your plans, the people who invented the form of transportation you used to get to the dinner, and either the transit employees or the bike or car manufacturers that actually made your vehicle....
My point being, there's so much to be grateful for! (And, maybe in the Comments you'd like to tell us what it is
you're
feeling grateful for today.)
With this feeling in mind, let's talk about
grace
. As our society has become less religious, many of us have lost out on this beautiful tradition of taking a moment at the beginning of a meal to feel thankful for it (I will note that if God isn't your thing, you can just leave him/her out of it). This time has the added benefit of slowing us down, which allows our bodies to get ready for digestion. Here's a simple, non-denominational 'grace' from a children's book of poems,
Father Fox's Pennyrhymes
by Clyde Watson, that I've had since I was a kid.
Let the fall leaves fall
And the cold snow snow
And the rain rain rain 'til April.
Our coats are warm
and the pantry's full
and there's cake upon the table.
Now for the second part of Thanksgiving, the
celebrating with food
part:
As far as food goes, I can make a number of recommendations as long as you've got a copy of
Get It Ripe
on hand, and preferably some locally-grown produce. Try any or all of these:
* A soup is always a great starter: Apple Carrot Soup with Coriander (p. 165), Beautiful Borscht (p. 166), Broccoli Creem Soup (p. 167), Creemy Corn Soup (p. 170), or Portobello Soup (p. 176)
* Roasted squash as per directions on page 90 or Maple Roasted Roots (p. 185)
* Millet-Stuffed Bell Peppers (p. 196) with Cashew (p. 159) or Miso Gravy (p. 160)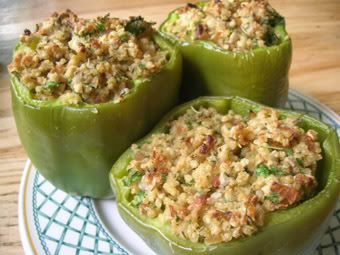 * If you didn't want plain roasted squash, the Butternut Risotto (p. 181) might make a delicious entree instead
*
Roasted Fennel
makes a delicious side
* You might make some Buttahmilk Biscuits (p. 132) with a tablespoon of dried herbs thrown in, or Molasses Cornbread (p. 134) or Almost Focaccia Bread (p. 136)
* And of course you'll need a Pumpkin Pie (p. 218) - the coconut milk in this one makes it sooo decadent. If you're not so jazzed about making a pie crust, just oil up some oven-proof custard dishes and/or a loaf pan (my mum and I take this lazy way all the time - though don't get me wrong, my mum does actually make some of the best pie crusts I've ever had!). You might pour the remaining coconut milk from the can (perhaps with a drop of maple syrup) over the pie, or make the raw Cashew Creem (p. 219) which is very "more-ish".
* Another dessert option is to go against convention and make the Apple Crumble (p. 220) - it's a winner for sure!
Ryan and I have spent all weekend on a liquid fast (which is why I was somewhat pained and salivating writing the second half of this post) and will be having our first solids since Thursday this evening at my family's Thanksgiving. That means we'll be filling up on roasted squash, fennel (sans the white wine) and Brussels sprouts,
maybe
with some mushroom gravy, and some raw date-almond bars for dessert. Here's to a Thanksgiving where we don't feel impossibly stuffed by the end of the night!
Labels: gratitude, holidays, Thanksgiving